Teaching English in Thailand - "the land of smiles"
Volunteer Experiences / 24 August 2016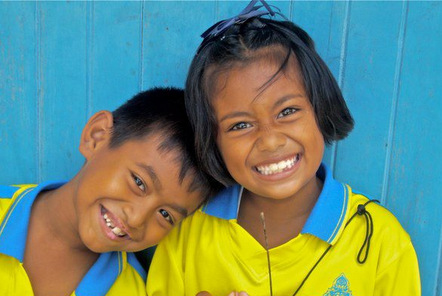 Thailand, known as 'the land of smiles', is a magnet for travellers from around the world due to its glorious beaches, tropical climate, great food and fascinating culture. From the bustling modern city of Bangkok to the tranquil mountains in the North and the idyllic beaches in the South, Thailand has something to offer everyone.
We help to place volunteers in the right teaching location for them, whether it be teaching in the exciting city of Bangkok, stunning island of Koh Phangan or the tropical jungle region of Don Sak. Each of these projects gives volunteers the opportunity to experience a different type of teaching – whether it be supporting teenagers develop confidence in a college, joining a special 9-day Summer Camp or leading primary school classes helping to expand their vocabulary.
It can be difficult to decide which project is right for you, so here is a round up of feedback from volunteers at all 4 teaching placements!
Summer Camp
Kerry joined the Pod Volunteer English Summer Camp: "I thoroughly enjoyed my time at the English Summer Camp in Thailand, and would strongly recommend it to anyone. I was worried that my lack of experience teaching, and being the baby of the group, would make the project difficult, but the help from Gemma and the rest of the group ensured we all felt confident in what we were doing. The project was great for first time travellers who don't want to do it completely alone.
I felt safe the entire time, and as though I was seeing the real side of Thailand off the typical tourist track. I made some amazing friends, and had some great experiences that I won't forget for a long time."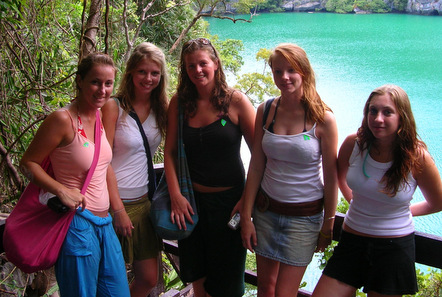 Teaching in Bangkok
Helen joined our Teaching in Bangkok placement this summer she has shared her advice and experience with us: "The placement is a fantastic experience. You don't have to be a teacher or have TEFL experience to do it - but the latter certainly helps. (There is a lot of support available). You do though need to be confident in leading group activities independently.
From start to finish, teaching English in Bangkok College proved a great project to volunteer on. The placement was over a four week period. I taught between three and four hours a day (following a fixed timetable) and had Fridays and the weekends off to explore Bangkok. I taught a range of students on both certificate and diploma courses at the college. The focus was on developing speaking skills - particularly pronunciation and intonation. My groups were small - usually consisting of between six or seven students.
The students were all very friendly and very keen to learn, although initially many lacked confidence to speak – so constant encouragement and repetition was necessary to build up confidence. The students thrived on praise, and really tried to use what they had learned. They were also very gracious, inquisitive, and had a lovely sense of humour."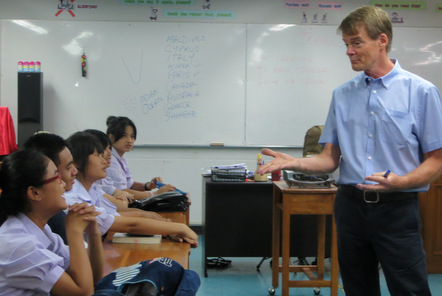 Teach English on an Island
Kelsey joined the Teach English on an Island project for 6 weeks - here is her account of her time on the island: "I had a fantastic time teaching at the school and I absolutely fell in love with the kids we were working with. I was part of a volunteer group of four, and we elected to teach as a team rather than be split into different schools. It allowed us to work with the kids in small groups of 4-6 and develop relationships with them. We were given books with topics from which we made our lesson plans and were given complete freedom in how we taught the classes.
The teachers were very welcoming and supportive, although even the English teachers at the school spoke minimal English. We taught about 10 classes per week and had Friday-Sunday off so I spent many weekends visiting nearby islands and exploring Koh Phangan. I spent more than I had intended to, but I loved the experiences I had (snorkeling at Koh Tao, a day trip to Ang Thong Marine Park, C&M Thai classes, My Wok & Me cooking school, Slip N Fly, Full Moon Party, foot scrubs, yoga, night markets, etc...) and Eiu (volunteer manager) was fantastic"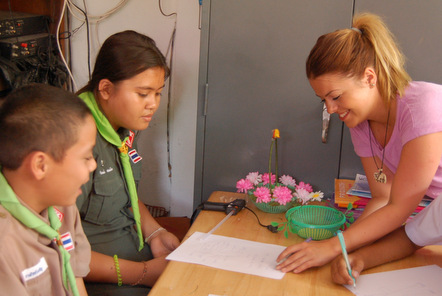 Teach English in Tropical Schools
Leah joined our Teach English in Tropical Schools project and gave a glowing review of her experience, "I really don't know where to begin in explaining the impact the students and teachers had on me or how amazing this experience was overall. This wasn't my first time volunteering abroad, but it definitely was the best trip, most enriching I have ever done. From the teachers at our school to the staff at our accommodation, the people didn't just welcome you, they made you part of the family. By the end of the 6 weeks I was in tears as I did not want to leave our students, the teachers or the staff at the resort. The same goes for my friendships with the other volunteers, who knew you could be so close with people after a matter of weeks!
I have worked with and taught children before, both in the UK and America, but the children in Thailand have to be the most grateful, enthusiastic, determined, fun-loving children I have ever had the pleasure to teach. Yes they were shy to begin with, they were nervous that their English was not good enough. But after the first day of teaching they were making thousands of loom bands for us, begging to play games and just wanting to sit and eat lunch with us. I have never felt so loved in my life and they are the main reason why I want to go back to the school next year. What makes the Teaching in a Tropical School programme so amazing is the ability to see rural Thailand, while still being a ferry ride away from some of the popular, and most beautiful islands, in Thailand. It may be the biggest cliche, "you get to see the real Thailand," but without sounding pretentious, it is the absolute truth. Visiting students' houses, participating in religious and national holidays, even going to Buddhist funerals outside 7/11! You don't just see Thailand, you live it."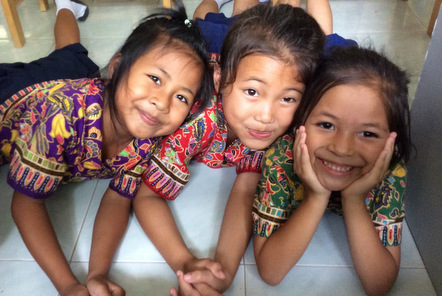 Pod Volunteer has availability for volunteer to help a range of teaching project throughout the year which run from 1 weeks to 12 weeks and you can find out more about them here: Teaching in Thailand.
Back