Volunteering with children: our advice
Volunteering & Travel Advice / 13 September 2017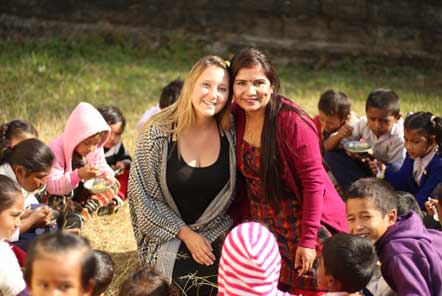 How can I volunteer with children abroad ethically? It's a very important question to ask and we believe that through several simple steps and pieces of knowledge, volunteering with children can be a positive experience for all involved.
We believe that the best way to ensure that our volunteers have a postive impact and are ethical in their approach to volunteering is for us to make sure that they are fully prepared for the role they have signed up for, but also that the need of the project is genuine and that volunteers are beneficial in reality.
Volunteering with children is one of the most rewarding, inspiring, fun and interesting things you can do. We wanted to make our advice to volunteers as easy to follow as possible, so here is our top tips for volunteering with children in an ethical manner, (if you are able to keep these points in mind, then you will be able to get the most out of the experience – as will the children)!
Before travelling out to your chosen project, mentally prepare yourself for the conditions that you are going to. At the projects you are joining, it is likely that the facilities and environment the children are living in a very different from what you are useful – it is important to be respectful of this, as you are a guest
Be aware of the cultural difference and approach your volunteer placement with an open mind
Once you are at the project, try to establish good working relationships with the staff. This is really important and we have found one of the best ways to progress positive improvements is by working with the local staff or caregivers. It is crucial to always respect the seniority of the local staff or caregivers and respect and follow the rules of conduct
Follow the lead of the local staff or caregivers in terms of praise and discipline however it is important to be aware that there may be physical punishment of the children which can be very challenging for volunteers to witness. Volunteers can act as a positive role model for the staff by introducing different forms of discipline or positive reinforcements which have been very successful previously such as the use of sticker charts at our teaching project in Nepal - this gave the children something to work towards and aim for and had the knock on effect of improving their behaviour!
Be responsible and if you have agreed to be somewhere at a certain time or do a certain activity then make sure you do it or let someone know if you can't
Do not have 'favourite' children – this can dramatically damage the self-esteem of the other children at the project. Sometimes, having the well-being of a child as your utmost priority can show in a way you don't expect. It is also important for you to recognise that you are not the primary caregiver and that you will be leaving the children's life soon; if you feel that a child is getting very attached to you then you should discuss this with the child's primary caregiver to determine what would be best to do
Ensure you have read through our Child and Vulnerable Adult Protection Policy and follow the advice, such as never spending time with the children alone or where you are not visible to others
Be aware of health and communicable diseases and the risks not only for yourself from the child but what you are exposing the child too. If you are feeling unwell then it is best to stay away from the children until you are completely better as the children may not be used to the germs you are carrying
Although it may be hard, do not make promises to the children that you will return no matter how sure you are that you will come back. Despite your best intentions, sometimes it isn't possible for you to return and so it is best for you not to give false hope
If you would like to give a gift or donation or organise an outing, it is important to discuss this with the staff, for example in order for this not to become an expectation of volunteers, it may be better for the local staff to give the gift on your behalf. You need to remember the context and ensure what you are planning is appropriate. It is important not to promise things in case it doesn't happen. Read our guide for how to give responsibly and our Child and Vulnerable Adult Protection Policy to learn more
Pod Volunteer works with handpicked projects which we know personally, have visited and assessed and we believe that our projects are unique in the way they give back to the local community. We work closely with our projects to vet them and ensure the need is genuine; this means that you can choose between our projects focusing on which one is right for you in confidence.
Find out more about our volunteering opportunities with children here: www.podvolunteer.org/project-type/children
If you would like to read more about Pod Volunteer's ethics, values, policies and approach in relation to responsible volunteering that underpins the work we do, you can do here: www.podvolunteer.org/policy
Back
SHARE THIS ARTICLE...
Share this article with your friends and followers by using the social media buttons below: