Pod Charity Grant for Elephant Safety Workshops in Namibia
Charity News / 21 September 2018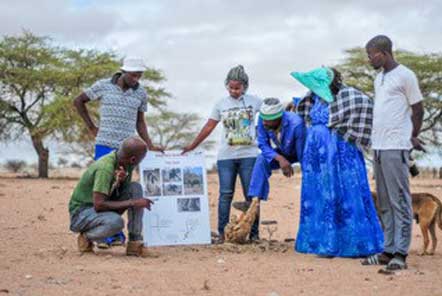 At the Desert Elephant Conservation project in Namibia, the local team work to protect, track and research elephant herds in the beautiful Southern African desert – an initiative that is of both national and international importance, as the number of African elephants in the wild continues to drop.
As part of their work, the team endeavour to improve the relationship between the local communities and the elephant herd, educating and empowering Namibians on how to keep themselves, their family, farms and livestock safe when elephants pass through. Living in a traditional mud hut in the desert, it is understandably a scary experience to have a herd of elephants outside!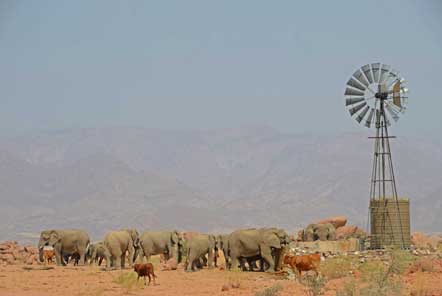 By running free Elephant Safety workshops and seminars, the local people, game guards and tour guides learn how best to react to the elephants and avoid situations that may provoke danger. Alongside this, the team runs community building projects that protect farmer's water sources in the desert and create separate water points for the elephants.
Reducing elephant-human conflict in this way, the Namibian government are less likely to issue hunting permits for "problem animals". This means that not only are the local community armed with knowledge about elephants and realistic solutions, but the team's work also helps to conserve desert elephant numbers.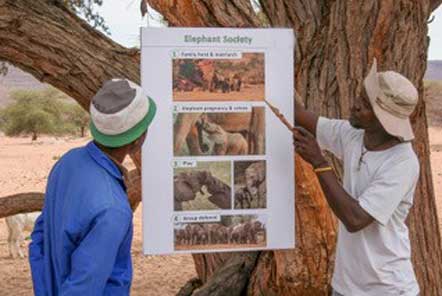 Alongside the amazing contribution that our volunteers joining the project make, we are also delighted to be able to make grants to our partner projects through Pod Charity. The Pod Charity collects donations from volunteers and fundraising activities such as Vinestock each year and uses 100% of donations to support our projects overseas.
The Desert Elephant Conservation project in Namibia recently received a grant through Pod Charity and used the money to run two weeks of workshops and training for community members, game guards and tour guides.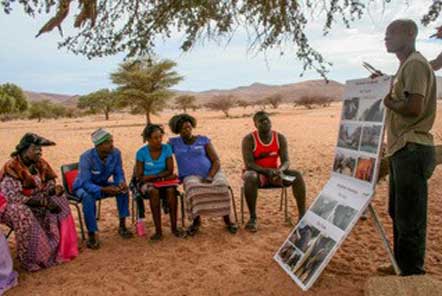 "You really touch all the basics about the elephants. I leant so much, it makes my work much easier and I understand the elephants better" - Elephant Tour Guide from Swakopmund
The team were able to print PVC posters, with large colour photos to aid the workshops and understanding of the various educational points. The long lasting PVC posters don't get ripped and will last for many more workshops to come!
Find out more about the why Desert Elephants are special here amd for more information about Pod Charity you can visit our charity page.
And if you're interested in joining a volunteer placement at this project here, find out more about the volunteer role here.
Back
SHARE THIS ARTICLE...
Share this article with your friends and followers by using the social media buttons below: