My trip to our Reef Conservation island in Belize
Volunteer Experiences / 04 November 2019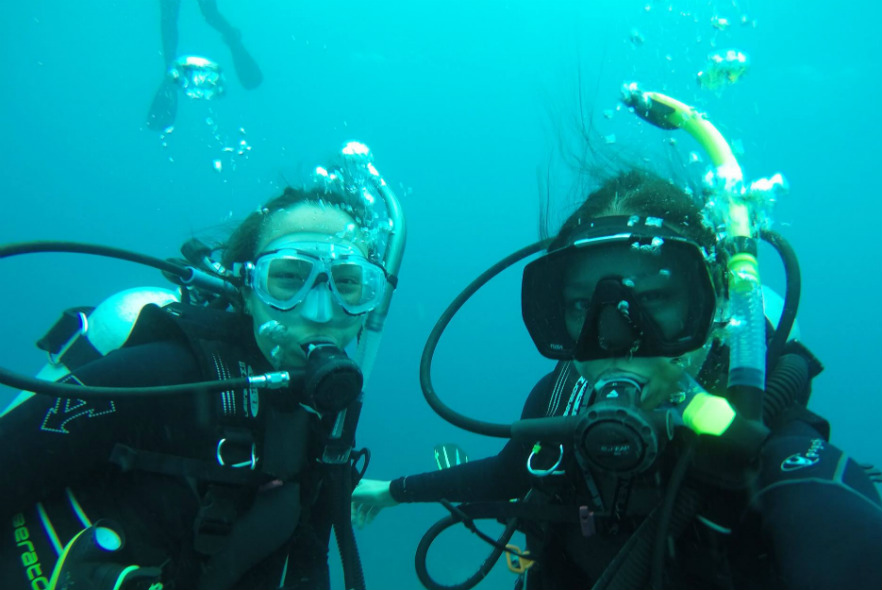 I was super excited to finally arrive in Belize. I flew from the UK to Belize via Miami, where I had a night in an airport hotel before by final flight down to Belize so on arrival in Belize I was well rested and ready for my adventure in Central America!
I arrived into Belize International airport which is small, friendly airport in the morning and checked in for my next flight down to Placencia where our Reef Conservation project is based. The check in desk team let me know that there was space on an earlier flight so I was delighted to get on an earlier flight and see the Caribbean Sea as soon as possible!
The small propeller flights which are operated by Tropic Air and Mayan Island Air work like buses in Belize, stopping at several small air strips for other passengers on the way down before landing at the air strip in Placencia. There were only 12 seats on the propeller aircraft and the views of the islands and crystal clear ocean were breath-taking.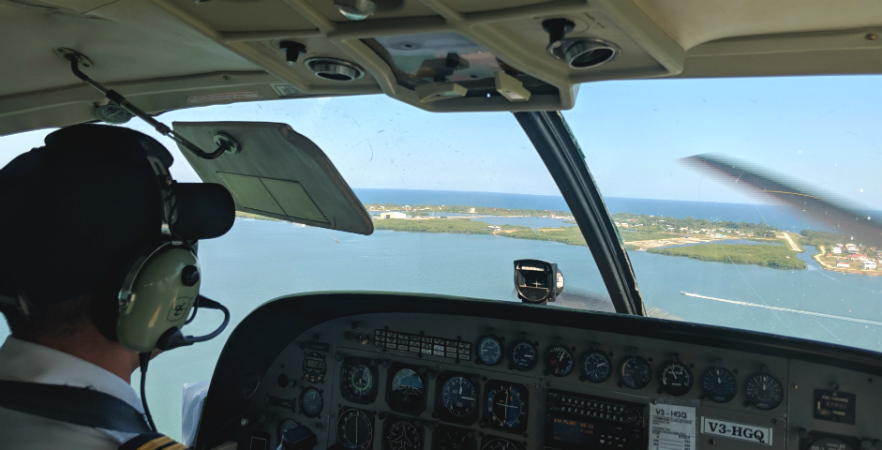 When we arrived into Placencia there were taxis waiting for the flight to arrive and they took me to my accommodation. I booked to stay in a single room in Sailfish resort, which also has dorm and double rooms available. It's a short boat trip across the lagoon, where I was lucky to see manatees in the evening!
After a refreshing dip in the pool I explored the relaxed coastal village of Placencia, which was only 10 minute stroll away. There are lots of cafes, restaurants and small shops on the main street and the beach has many beach cafes and bars where you can relax watching the sea with dinner and a tropical cocktail!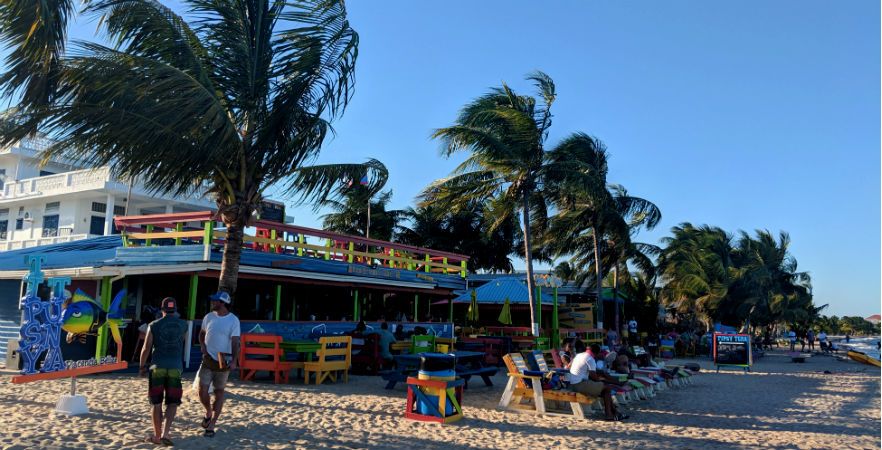 On Monday morning the boat docked just outside the Sailfish resort and I met the team and other volunteers. We headed out of the lagoon into the ocean for a lovely hour long journey over to the private Reef Conservation island. Arriving at the island was even better than I had imagined!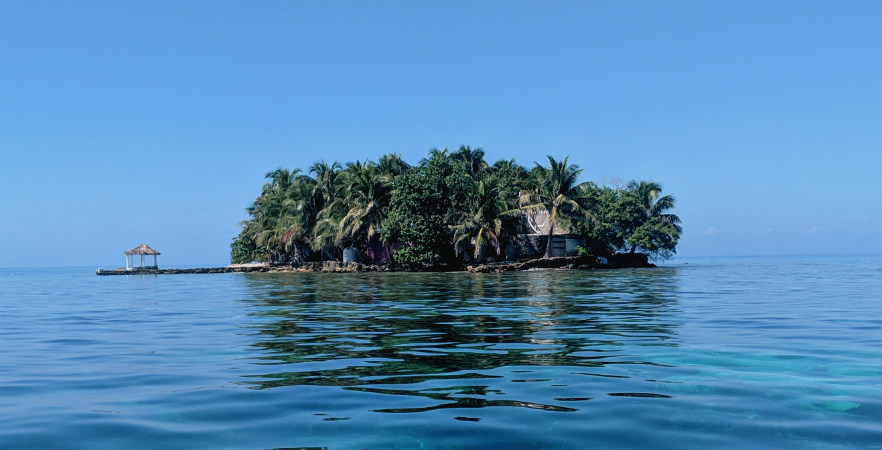 We were all given an introduction to island life and briefing of what we would be involved in. As I had dived recently and had my PADI Open Water qualification, in the early afternoon I joined other volunteers who had also just arrived and were qualified for a refresher shore dive right from our island whilst volunteers who were beginners started their training.
Before each conservation dive, the team led presentations which explained the specific work we would be doing and its importance. We learnt about many aspects of marine conservation including the area's biodiversity, lobster and conch (large snail) surveying, the impact of invasive lionfish and learning fish identification and signals.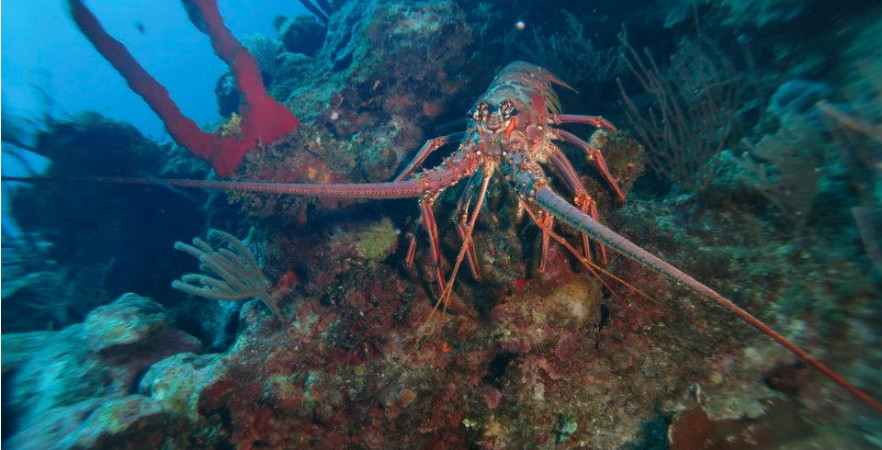 The team teach volunteers how to cull the invasive lionfish which are causing devastating impacts on the biodiversity and health of the reefs. You are taught the spear technique on the island using coconuts as your targets!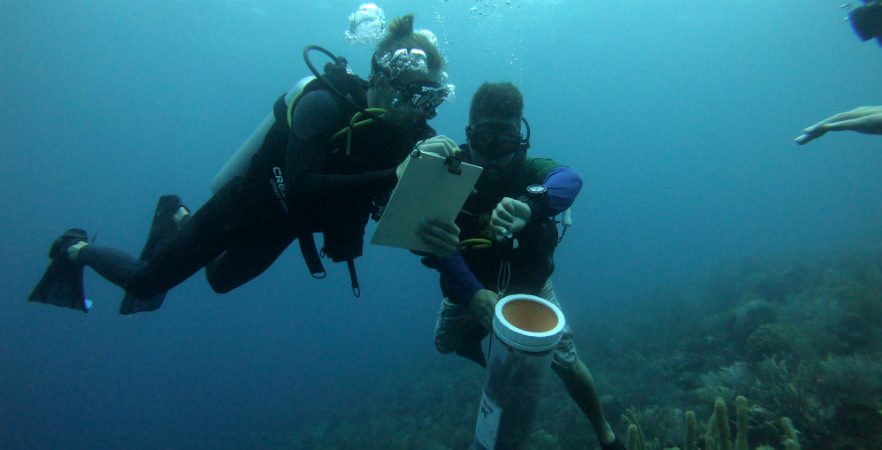 After each lionfish dive the team study and dissect a sample of the lionfish which have been culled. Volunteers are taught how to carefully dissect the fish and collect data for their ongoing research, including recording the fishes last dinner. Volunteers can choose to opt out of the lionfish culling if they prefer.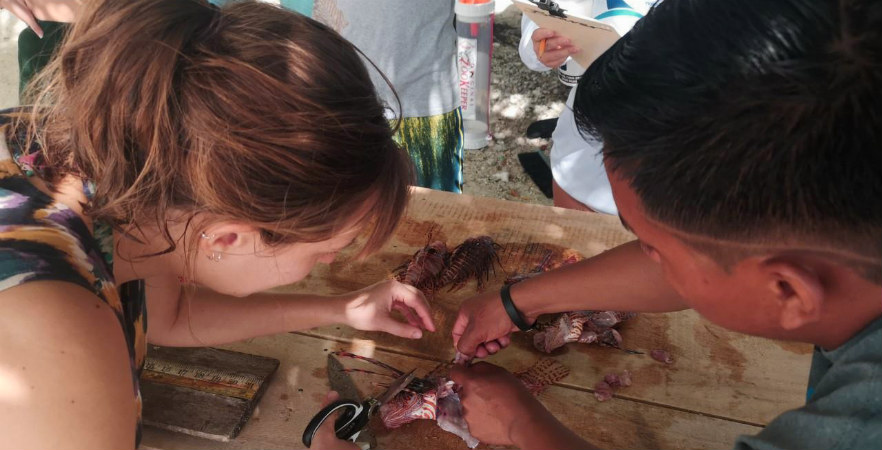 The lionfish are put to good use as the island chef creates a delicious range of meals including lionfish tacos, ceviche and fried fish fillets. There are always also tasty meals for vegetarian and vegan volunteers.
It's a very special project, not only as you live with the research team on a private tropical island in the Caribbean, but the world's second largest coral reef is literally on your door step! There are a variety of dive sites which the team visit each week, meaning that volunteers get to experience a variety of reef environments. The local team can also help volunteers gain PADI dive courses, including Open Water, Advanced and Rescue Diver, as well as specialty courses such as Underwater Photography, Coral Reef Conservation and Fish Indentification. It's an ideal place to gain dive skills whilst helping to conserve the reef.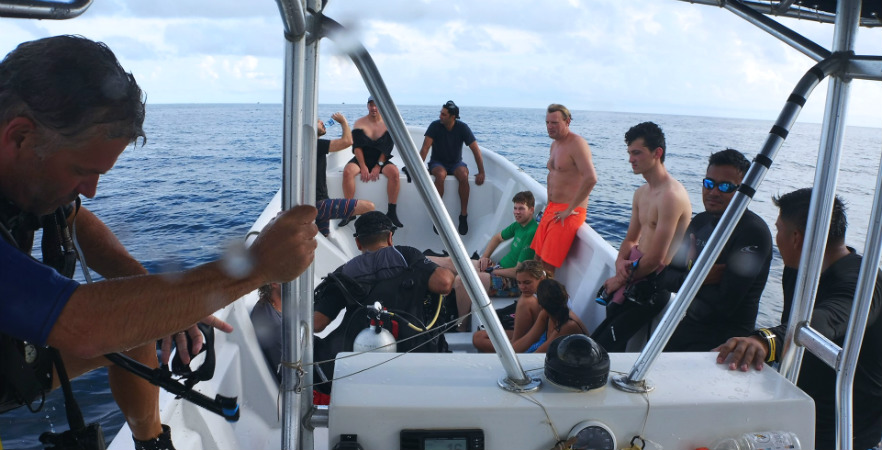 From Tuesday to Thursday the team do around 3 dives each day so it's an incredible opportunity to explore the ocean, assist in the vital conservation work and perfect your dive skills. Between dives volunteers can complete their dive log books, relax in the hammock or polish up on their fish identification skills!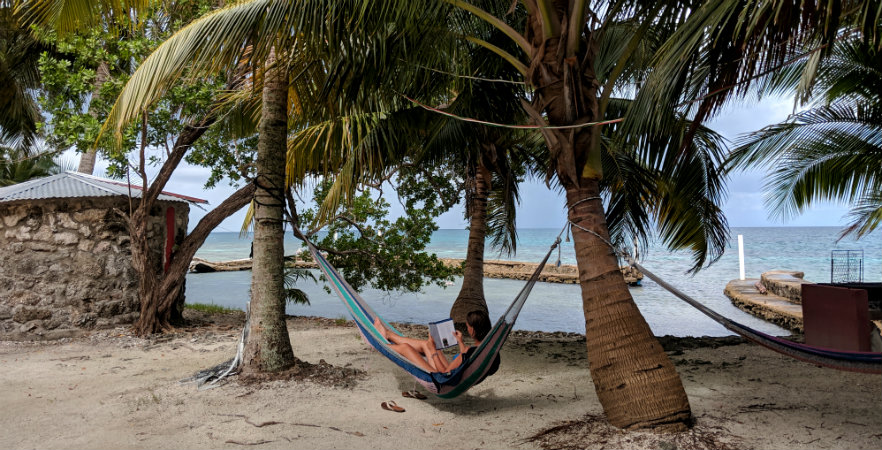 In the evening volunteers often watch the sunset, star gaze, sit in the volunteer house playing cards and games or relax before the next day's early morning start!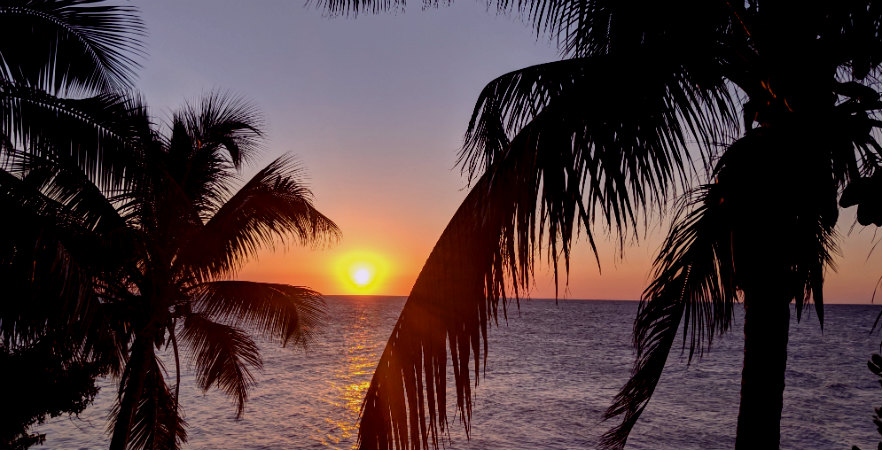 Each Friday around mid-morning the team head back on the boat to the mainland for a weekend in Placencia where volunteers can explore more of what Belize has to offer. I was sad to leave the island life but excited to see what else Belize has in store on my Pod Trip, next stop = our Caribbean Conservation project.

The Reef Conservation team in Belize are looking for volunteers to help support their research and work, you can find out how you can get involved on our Reef Conservation project page here: https://www.podvolunteer.org/projects/marine-conservation-belize
Back