We are able to offer volunteering placements abroad for corporate clients who are looking for a way for their employees to give back and actively make a difference.
This could be a one-off trip for individuals or teams of staff, volunteering at our hand-picked, ethical and sustainable projects, or long term partnerships with overseas projects in need of support.
What volunteer opportunities can we provide your employees?
Our placements accept volunteers with a range of skills, experiences and backgrounds and we help to match them to the right project. Your employees could join our projects around the world.
We help our corporate partners choose a project which fits well with their own mission and company values. We would work with you to find the right fit for your own CSR aims and discuss your options and next steps.
Corporate Case Study: Banner Insurance
Community development in Ghana
Banner Insurance are specialists in providing travel insurance for those working, living, volunteering or teaching abroad. In their project with us:
Three employees volunteered on the Building project in Ghana
They lived in the heart of the village for two weeks
The team completed a storm drain for the new community sports field
Their UK Office also contributed clothing donations for children in the village
"The project itself was hard going as it was very warm and we were digging and mixing concrete for a storm drain. This would prove invaluable when the rains come though, as it will stop the school house from subsiding. I have never worked harder in my life but it was for a good cause!" – Laura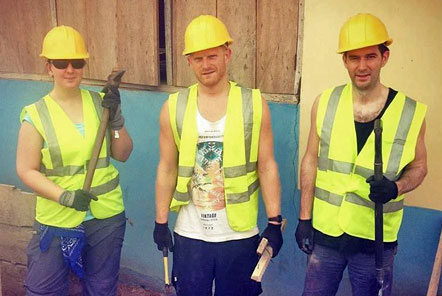 "Getting involved with something that you could see was going to be valued by the community was the most rewarding. I thought it was very very well run. We'd all highly recommend it and feel that going on a trip ourselves has given us a valuable insight" - Rich
Click here to read all about their experience
Corporate Case Study: Business Environment
Business Environment operate over 850,000 sq ft of work space across the UK & London.
Business Environment offer a 2 week volunteer opportunity for two employees each year
The scheme is offered as an incentive and a reward for staff as well as opportunity to learn and grow
Diego & James supporting an animal sanctuary in Thailand
"It was an amazing experience and great to help with the rescue creatures and it was rewarding knowing that these creatures are in good hands. Be prepared for hard work!" – Diego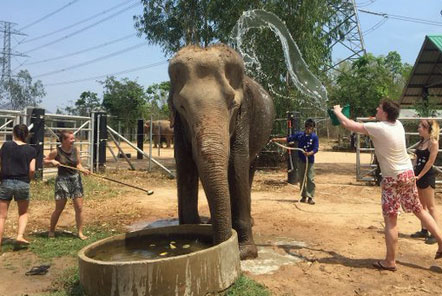 Click here to read all about their experience
Charlotte & Will working with children in rural Cambodia
"I had such an amazing time during my stay in Cambodia - everyone at Pod Volunteer has been so helpful and supportive. It was such an experience, just to see a different culture and how other people in less fortunate countries live/work. I feel privileged to be have been given this opportunity and will never forget it. It's such a great cause - the amount of work that you do for these communities is amazing and I was very glad to be a part of it!" – Charlotte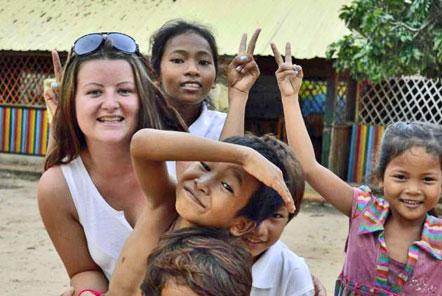 Yasmine & Jade working with children in the Himalayas
"I cannot recommend Pod Volunteer highly enough as I had the most amazing experiences and will never forget my time in Nepal. If you are thinking of volunteering for the first time but are unsure, don't be, you will be so well looked after with this organisation and take home memories to last forever." – Jade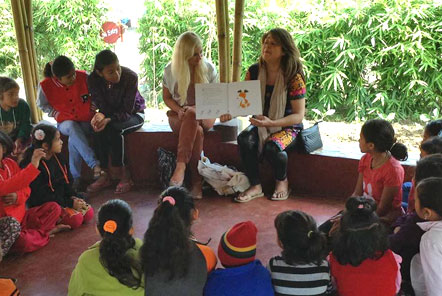 Click here to read all about their experience
Why Pod Volunteer?
We are volunteering specialists, working in partnership with hand-picked projects around the world that we visit personally and continuously assess. Our expert team have all volunteered themselves, travelled extensively and are there to support you, and your employees, throughout the process.
We pride ourselves on our responsible approach to volunteering, we are driven by the needs of the projects we support and we only offer sustainable volunteer placements that have a positive impact on the local community in which they work. As a non-profit organisation we are structured to minimise costs and maximise benefits.
We have also been selected for a number of awards and are a full accredited volunteer provider, please see our Awards & Accreditations page for more details.
What are the benefits of employee volunteering?
Volunteering is hugely beneficial for confidence, motivation and world perspective. By joining a volunteer placement, your employee will:
Have to put themselves outside of their comfort zone
Learn new skills
Develop cross-cultural team work skills
Overcome challenges they will never have faced before
They will also have an overwhelmingly positive impact on the project, joining local team members and helping them to achieve their long term aims.
We work in long term partnership with our projects and have been delighted to see them grow and develop with the support of volunteers. Click here to read more on our projects' achievements in the last year.