Volunteer diary - DofE Gold Residential Award in Costa Rica
Volunteer Experiences / 23 February 2022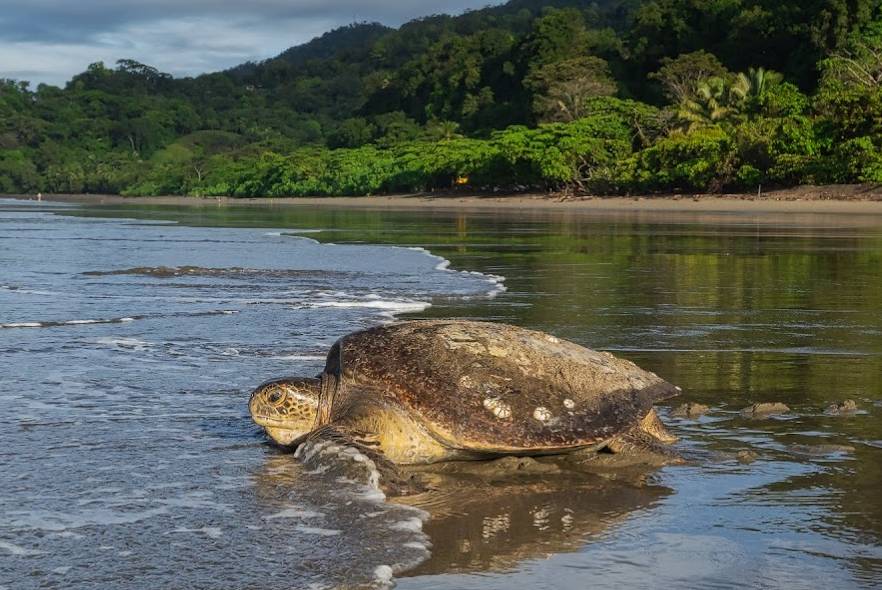 Garan who is 17 years old joined our Turtle and Wildlife Conservation project in Costa Rica for his DofE Gold Residential Award in January.
"I really cannot thank you enough, I had the most fantastic time away volunteering and I couldn't have wished for anything more." - Garan
Thank you so much to Garan for sharing his first week diary from the project with us:
Travel from my San Jose hotel (Holiday Inn Express) to the Turtle and Wildlife project: I woke up at 4:45am and saw the sunrise at 5:30am, and facetimed everyone at home. Monica picked me up from the hotel at 9am and we headed to the reserve. We drive through beautiful countryside for 3 hours and 20 minutes and arrived at 12:20pm. I went through the gates into the common area at the reserve and was welcomed by Gabby. I then met the other volunteers, Ashley from the USA and Georgie from London. I met Linnea a lady working on her thesis for uni from Sweden. I then sat with them and had my dinner which was friend chicken, new potatoes and salad with a sugar cane and lemon drink. I went to my room and settled in. I then met Ryan who gave me a tour of the reserve and welcomed me. He showed me the hatchery, butterfly garden, beach. Shortly after at 3:50pm we released 11 baby turtles who all slowly crawled towards the water. For the rest of the day I relaxed in the hammocks.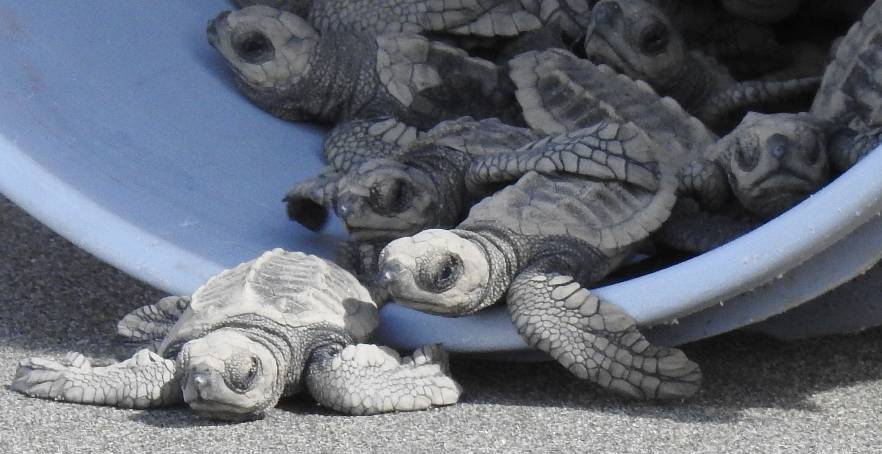 First full day volunteering: I woke up at 5:30am and me and Ashley walked to the hatchery and saw capuchin monkeys on our way jumping between the trees. We checked that no turtles had hatched (we can tell by turtles being above the sand or if we can't see any on top the sand will of collapsed and the turtles would be just underneath, you can normally feel them if you put your finger in the sand). We had to remove all leaves, all ants, sanitise surfaces.
We then went to the butterfly garden changed the pupas food (leaves), cleaned the cages, was shown how to move over the crystallises how to note which crystallise you have moved so what cage it was taken from and what number space you put it in (another cage with plywood on the back with numbers and that is where they crystallise hang). When a butterfly hatches you must note which number it came from. When they crystallise is moved you must note your name the date which cage it came from and which number it was assigned. When it is born you must note the date.
I then went on a nature hike with Ryan looking for owls. Monkeys, birds etc. we only ended up seeing capuchin monkeys. I then met Victoria another volunteer from Germany. For dinner we had rice, black bean, omelette and fried plantain with Salsa and jalapeños on the side. I then checked up on the hatchery again and there was nothing there. Victoria and I then released 2 baby sea turtles at around 4:30pm and the sun was starting to set. For dinner Georgie and Victoria made a pasta bake.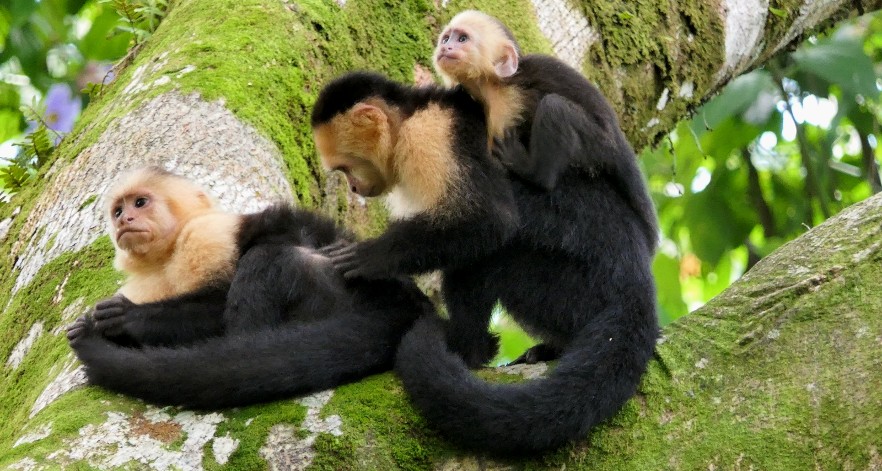 Day Two: I woke up at 5:30am and got ready to go birding. We saw some chachalacas, herons, kingfishers. We then checked on the hatchery on our way and ended up finding turtles running about the place. This nest had not been marked down as having eggs in and for that reason had no cage on and wasn't being monitored. We managed to find 68 sea turtles, we found a total of 88 hatched eggs so we couldn't find 20 of them, we also had 4 eggs that were dead. We took them back to the reserve measured them (width, length, weight) we did this to only 10. After this we went on our bat walk at 8 of which we saw no bats but we say plenty of capuchin monkeys. We saw baby crocodiles, an iguana and some scarlet macaws. After this I relaxed until dinner at 12 which was rice, black beans and pork.
We then checked on the butterfly, cleaned the cages, got new leaves, released newly hatched butterfly's, logged down the new hatchery's and moved over a crystallise. At 2 o'clock we then released the 68 baby sea turtles into the ocean who quickly swam away, we then checked on the hatchery again after this but there wasn't anything there. At 5pm we then went on a night walk with Ryan a 5 minute drive away from the reserve, we watched the sun set, exploded some caves, saw some bats, coatis (pronounced Ka-watee), spider crabs, spiders. For dinner I had eggs on fried toast with rice.
Day Three: I woke up at 5:50am. Me and Victoria then walked into Ojochal at 8:20am to find the shop. At 10am we then headed to the coral labs where we were educated about the coral growing in the area and the threats it's facing (fisherman, fish) and what they are doing to conserve it (which was to grow it and eventually try and reproduce the corals). We then measured the corals (weight, height, width amount of branches). To harvest the corals they would go out into the ocean by boat in the reserve and find the coral, if some had already been broken they would take the broken coral and if not they would cut a small amount of it away.
We then came back cleaned the larva cages in the butterfly garden and had dinner which was like lentil hotpot. I then headed back to the butterfly garden got rid of the eggs changed the sugar water and changed the food. At 2 we headed out fishing, for the first 30 mins Linnea set up a GoPro with shrimp on the end to record the fish. I talked to Linnea and found out she was studying fish population in the Rio Also river. After this Javi fished with his net catching a total of 30 fish. After this we measured the fish, measured the pH in the water, the oxygen in the water, the speed of the water and the turbidity. Linnea needs this data for her university degree so this is why we were collecting all the data which she will then look through and see what she can find out through what we've seen. She is creating a fish inventory so to say.
Victoria and I then checked on the hatchery which nothing was happening at. I then cooked dinner for which I had eggs on toast with rice. We then went on our night walk and caught 2 caimans in the swap. A baby and a large male. I carried the baby caiman back to the reserve and measured their length, width, weight, sex. They were then released back into the swamp they were found in.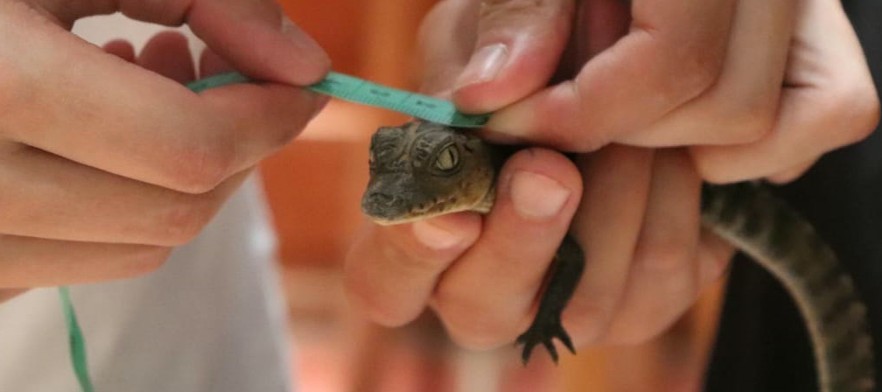 Day Four: I woke up at 5:45am. At 7:30am we began our walk to the river (Rio Balso) where Linnea set up a camera for 30 mins to record the fish and we sat riverside and chatted. After this was done we had to measure the pH of the water the oxygen in the water the temperature of the water the turbidity of the water and the speed of the water. This took us up to 935 where after this we walked back to the reserve, on the way I stopped at the shop and bought some dark roast coffee, some 100% organic chocolate and some cacao nibs coated in chocolate.
When we got back we got ready so go on our waterfall hike with Ryan. It was about a 15 minute drive and when we got there we climbed over sloppy rocks up to the top of the waterfall and jumped off!! I eventually decided to go back up and do it for a 2nd time, but this time I slipped as I jumped and did a back flop in the water which stung for a moment but it was rather funny. After this we headed back to the reserve got changed and got ready for the boat through the mangrove ride. We drove about 20 minutes south of Ojochal to a little river where we got on our boat and jetted through the narrow river and it spat us out into the river Terraba which is the largest in Costa Rica. We boated through the mangroves admiring lots of birds, like kingfishers, herons, black hawks, egrets and many more. We also saw some crocodiles about 3 in total. We stopped about an hour in for food, for which we had a burrito filled with rice black beans plantain, and some water also. As we headed back into the narrow river to the end of the boat ride we sped into it with water almost coming up over the side of the boat which was fun. At 6 we went for a meal at a local Mexican restaurant with a costa Rican twist where we had live music being played called Los Gatos Locos.
Day Five: I woke up at 5:15am. Me and Victoria headed out to the butterfly garden and released some butterfly changed the cages got rid of the eggs and changed the food. After this we went on our macaw walk with Adrian and saw 7 fly towards us then 1 disappeared. We saw another 2 continually flying back and forth. On our way back we stopped at the hatchery and a nest had hatched and everyone was there digging it up there was about 53 turtles from the nest which we shortly released after this. They all swam away pretty quickly except for 2 which kept floating back to the beach. After the release we headed back to the reserve. In the afternoon I sat and relaxed in the hammocks for the the rest of the afternoon through to the evening listening to music.
Day Six: I woke up at 5:45am. Sunday were days we didn't work so I relaxed this morning and suddenly some baby turtles were born so we measured them back at the reserve. At 2pm Ashley left so I said goodbye to Ashley. A new girl Leonie came and me and her went to the supermarket at 2:30pm. At 6:45pm we went to a restaurant a 10 minute walk away from the reserve called Mediterraneo Boca Coronado.
Day Seven: I woke up at 5am and got ready to go birding. We dropped Georgie off to catch her bus at pancito cafe at 5:40am and I said goodbye to Georgie. We headed up through Ojochal and then started our hike up the mountain. We walked up to an elevation of 360m and we were looking for birds on our way up. We saw 33 different species of bird. On the way back down the mountain we went to Ojochal waterfall and we got in for free because Oscar knew the people, it was nice there too but lots of stairs going down. We headed back to the car and headed to pancito cafe for breakfast.
After this we went to do the river survey. We went higher up Ojochal to the river Balso and measured up the river every 5m for 50m (11 times). We measured width, depth, floor attributes (eg. Rock boulder granite sand). After we did this we went back to the reserve for lunch. We had rice black bean fried cheese fried plantains and some potato stuff. The drink was mixed fruits smoothie it smelt a lot like banana. I then went fishing with Linnea and Javier and we caught 3 fish and did the same measurements as last time. There was a big pool in the river a family had made up the river also.
We went back to the reserve and we were planning on doing a release at 5pm and then suddenly we found out that a turtle had laid eggs on the beach which is very uncommon as it's the end of turtle season. I then met Lydia who lives in Amsterdam and is originally from the UK. We got to the beach and saw Javier who had found the nest, we saw the tracks going to the nest and I started digging through the sand for the eggs. I eventually found them after digging to about elbow depth. I dug out 108 eggs. I covered the hole back up and took them back to the reserve. Me Javier Victoria and Leoni went to the hatchery and buried the eggs in hole D5. I went back to the reserve had some dinner, rice and wraps.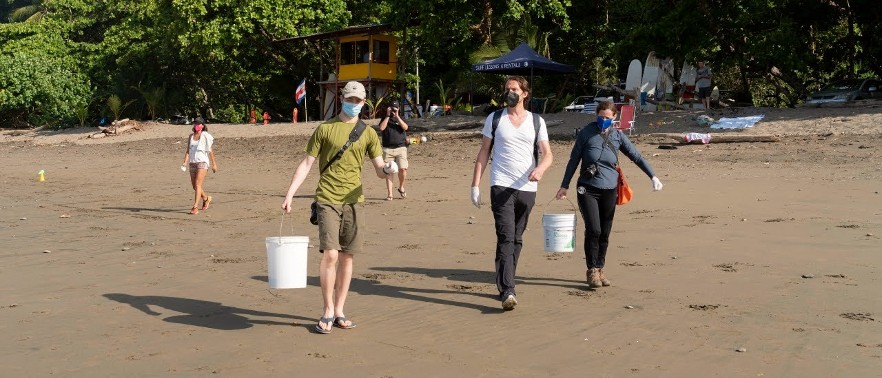 Back