Turtles, lionfish & island life in Belize: Volunteer diary
Volunteer Experiences / 09 November 2018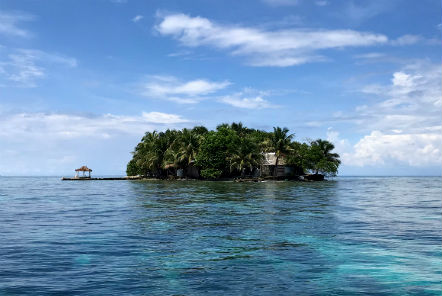 Thanks so much to Andrea for sharing her experiences at our Reef Conservation project in Belize.
"Even before I set off for this trip I knew that I wanted to do some conservation work for some time. Since I had gotten back into scuba diving last year, I decided to look for marine conservation volunteering opportunities in Central America. After scanning the internet for good offers, I ended up booking two weeks with Reef Conservation via the volunteering organization Pod Volunteer.
Living on a tiny Caribbean island and scuba diving all day sounded exactly like the kind of thing I might like, so I was really excited when it finally started. After having spent the weekend in Placencia, on Monday I finally headed off to the water taxi station with Flo, a German guy whom I had met in the Guesthouse and who would be one of my fellow volunteers. At the station we were picked up by a boat and met most of the Staff and the rest of the volunteers. For this first week there would only be 5 volunteers. Besides Flo and me there were Lauri and George from the US, and Jessica, another Swiss girl. The boat ride to the island took about one hour. I loved the island from the first moment I saw it. It was tiny, maybe 70m in diameter, and covered in palm trees. There was a tiny house with rooms for the volunteers and also a few Cabanas, plenty of hammocks, a volleyball net and even a slack-line.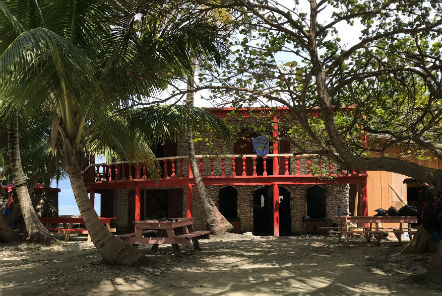 We settled into our rooms and got lunch, which was delicious. Then we already headed off for the first dive. Lauri, Flo and I would do our Advanced Open Water course, so the first dive was a Peak Performance Buoyancy dive. Willie, our instructor, tested our hovering skills and made us swim through narrow rope rings, which turned out to be quite a challenge. The second dive of the day was even more exciting: a night dive. It was really cool to see the reef in the dark and the best part was when we turned off our lamps and could see the bioluminescence. After the dive it was dinner time, which again was delicious. We were all so tired that we went to sleep at 9 pm already and I loved the feeling of falling asleep to the sound of the waves in the middle of the ocean.
The next day started early. We got up at 6 am, got some coffee and fruit and then Willie taught us how to spear lionfish (our first victim was not a lionfish, but a coconut). Lionfish are amazingly beautiful fish, but unfortunately, they are an invasive species. They are native to the Pacific and somehow managed to spread in the Caribbean, reproducing incredibly fast since they don't have natural predators and thus threatening native fish species. Therefore, one big part of our volunteering work would be to remove as many of them as possible.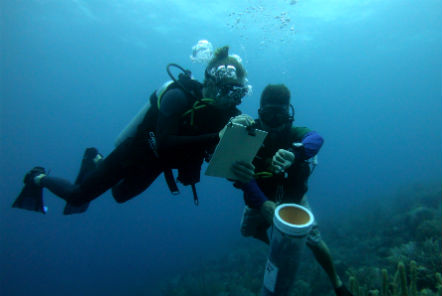 This first dive of the day was also a deep dive and part of our Advanced course. Willie showed us how much different colors changed under water and made us complete a number game on land and at 30m depth to show us how the depth affected us. Even though I didn't feel very different at this depth I performed much worse under water. After finishing the tasks, we finally headed off to our first lionfish hunt and all managed to spear at least one. Even though I did feel sorry for them, it was also a lot of fun trying to spot them on the reef (they are surprisingly difficult to find) and we all used up our air a little bit faster in the excitement of the hunt. The lionfish were not just discarded, but carefully surveyed.
After the dive, we measured their lengths, noted their gender and dissected them to analyze their stomach content. In the beginning we were all a bit hesitant with the dissections, since lionfish have several venomous spines. But after a bit of practice we all got the hang of it. Finally, we also learned how to fillet the lionfish and during the week the cooks prepared several different lionfish dishes for us, which were all super tasty. In general, the food turned out the be one of the highlights of those two weeks, since we got to try so much fresh seafood. My favorite was the conch ceviche.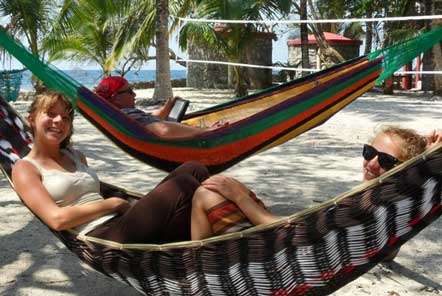 On this second day we did two more dives for our Advanced: First, an underwater navigation dive, at which I failed miserably. Second, a fish identification dive, at which I was surprisingly good. In the evening, Willie informed us that we had all passed the course and were now certified Advanced Open Water Divers. We celebrated the day with a beer, but again went to sleep very early.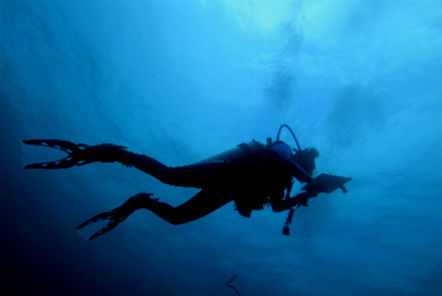 As we were done with the Advanced course, we could fully focus on the conservation work during the next days. We did 3 dives every day. We speared many more lionfish, but also performed surveys on several species like lobster, conch, commercial fish species and coral. Before the dives, Willie held a little presentation about a certain topic or species and explained to us how to do the survey. Under water we then all swam in one row for a certain amount of time, tried to spot our species of interest and wrote down how many of them we found. In the case of the conch and lobsters, we also measured each animals' size and gender, and noted at which depth we had found them.
After the surveys we also had some time to just swim and enjoy the reef (although we always had some spears with us, ready to hunt for lionfish) and during my two weeks' stay we saw some amazing other sea creatures like turtles, nurse sharks, eagle rays and octopus. Also the smaller fish species seemed much more interesting now that we actually knew their names. The best part was that we had the reef all to ourselves, since there were no other divers in this region. The days passed way too fast and on Friday we all packed our stuff and were brought back to the mainland for the weekend. The boat ride back was not as nice as the way there as it was raining like crazy.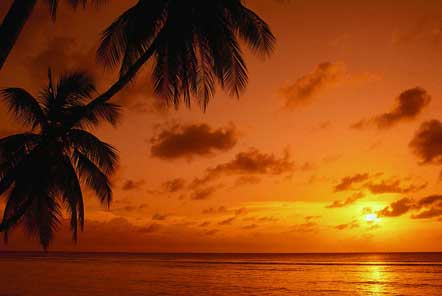 I spent the weekend relaxing in Placencia and tried to catch up some sleep (not very successfully), but to be honest I just couldn't wait to get back to the island for my second week. Most of the volunteers from the first week also came back for at least one more week and there were also some newbies. In total we were 11 for this week, which meant that things were a bit livelier and also a bit more chaotic. We would dive in several groups, since some of had the Advanced certification, some the Open Water and others were doing their Open Water course. Since we had already gotten the introductions to the different topics, the group that had already been here last week could now fully focus on the diving and conservation work. We had some more amazing dives and spent the evenings socializing and getting to know each other.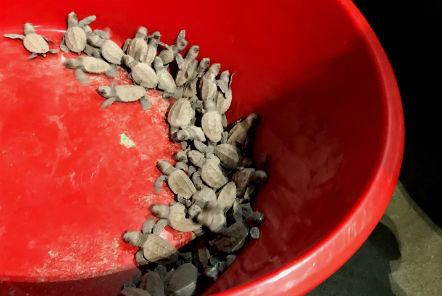 On Tuesday night there was a big surprise waiting for us. We had several turtle nests on the island and once it got dark the turtles started hatching from one of them. All of a sudden, the island was full of baby turtles trying to find the water. Since there is no beach on the island from which they could easily access it, we collected the turtles and set them free. That was definitely an once-in-a-lifetime experience and baby turtles are definitely one of the cutest things ever. However, it was also obvious how easily the turtles were misled by the light. Baby turtles are programmed to follow the light, since in their natural environment the sea is the brightest thing there is, as it reflects the light of the moon and stars. On our tiny island it was easy to just turn off all the lights to help them find their way. But I couldn't help but to wonder how many baby turtles get lost due to light pollution in more densely populated areas.
Another thing that got to me in that second week was our little excursion to a beach on one of the islands close by. It could have been a secluded paradise with white sand and crystal-clear water, but unfortunately it was full of plastic and trash. It was quite shocking to see something like this even in such a remote area. We tried to clean up the beach and picked up countless plastic bottles, straws, plastic cutlery, and tiny pieces of plastic and Styrofoam, but even though we filled several bags it was only a tiny fraction that we could remove. As shocking as the experience was, I think it reminded us why we were actually here. Not just for diving in an incredibly beautiful remote place, but also because we all wanted to do our part to help protect and preserve marine ecosystems. I'm sure we all left the island determined to live even more environmentally conscious.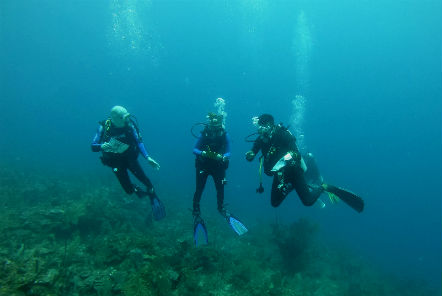 The days went by way too fast and on Friday it was time for me to leave the island and hit the road again. My time was all I had been hoping for and even more. I loved scuba diving with an actual purpose, not just for fun, and I learned so much during those two weeks. Both the staff and the other volunteers were amazing and I really enjoyed getting to know so many like-minded people from all over the world. Leaving was hard, but on the other hand there are so many more beautiful places waiting for me. Next stop: Guatemala! After having spent a lot of time at the sea I'm really looking forward to some hiking and climbing some volcanos."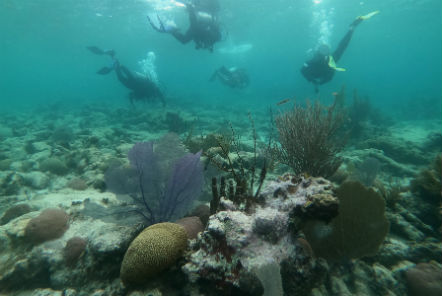 You can find out more about Andrea's travel adventures in her blog here: http://andreaanywhere.com/
If you would like to join the project you can also find out more on our Belize Reef Conservation project page here: https://www.podvolunteer.org/projects/marine-conservation-belize
Back
SHARE THIS ARTICLE...
Share this article with your friends and followers by using the social media buttons below: