Sunken battle ships and a Mini Cooper - Artificial Reefs in Thailand
Project & Pod News / 12 July 2012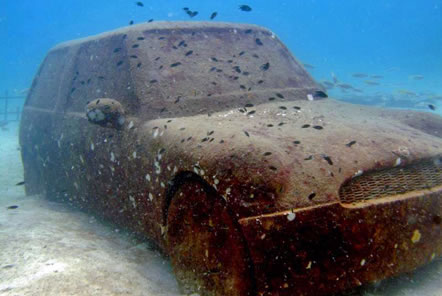 Diving in Koh Tao has become more and more popular over the last ten years and, as popularity has increased, so has the stress on the area caused primarily by dive numbers and inexperienced divers. The Marine Conservation project has been working on solutions to this problem.
The Marine Conservation project in Thailand has been working with Save Koh Tao and other local dive schools to try to create new alternative dive sites around Koh Tao. In the last few years they have been part of on-going initiatives to install artificial reefs; new dive sites that not only draw divers away from the overcrowded natural reefs but also provide a new habitat for corals, fish and organisms. Around Koh Tao there is now the Hin Fai BioRock, the MV Trident Wreck, Buoyancy World, the HTMS Sattakut Wreck (a 44m long sunken battleship) and - with the help of MINI Thailand - a MINI Square site complete with MINI Cooper replica.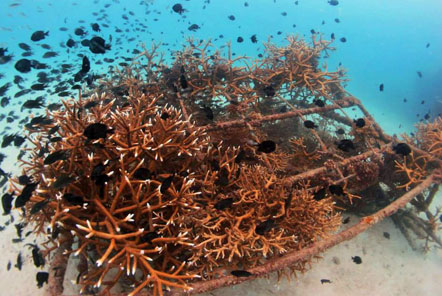 Recently the project has been working alongside the Department for Marine and Coastal Resources on the Suan Olan Diver training site. The goal of the Suan Olan site is to create interesting structures that provide for fish and coral habitats, while also being useful in the training of new divers. The site also incorporates training aids at the site such as swim throughs, buoyancy rings, and navigation courses and it is hoped that instructors from the island's many dive schools would use the site to train new divers - creating better divers and reducing damage to the natural reefs.
The project team and volunteers often visit the site for maintenance, coral transplanting and training but for a while they had never seen another dive group there. The feedback from other dive schools was that the site is too spread out and can be difficult to navigate – so the Marine Conservation project team got to work to fix the problem! The last few weeks volunteers have been working to make 150 small concrete artificial reefs that will provide more habitat for corals and fish, but primarily be used to link the individual structures at the site together to form a more cohesive dive area. Furthermore, they have also creating a string of nurseries that will lead divers between the Suan Olan Diver Training site and the MINI Thailand site.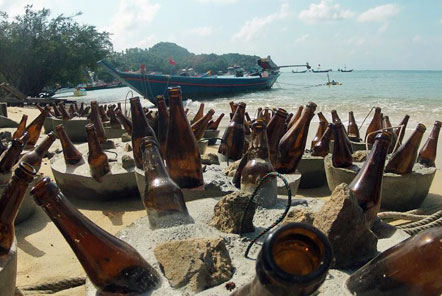 It has been far from easy work - creating 150 units out of concrete on land, hand mixing in the sun. Under the water however volunteers have been enjoying free-diving the pieces down, setting them up, and affixing corals found naturally broken around the reefs onto them.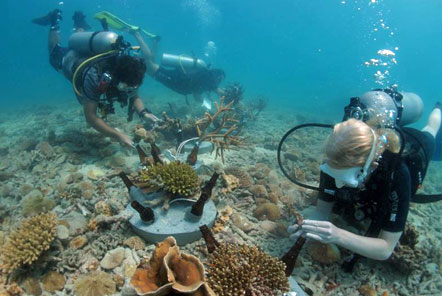 This is just one example where the Marine Conservation project team have been helping the DMCR and the Save Koh Tao group with their efforts to protect the local marine environment in Thailand.
If you would like to read more about the Marine Conservation project in Thailand, then click here to check out the project page.
With thanks to
Chad - Onsite Marine Biologist
Back