Sarah's Top Nepal Travel Tips
Volunteering & Travel Advice / 02 May 2017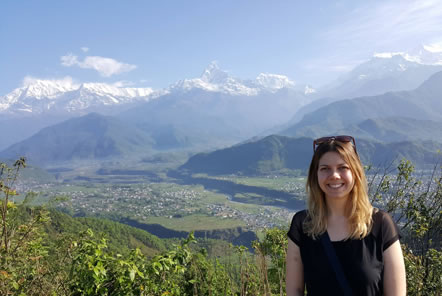 When chatting to volunteers they often ask me; what are the top things to do in Pokhara? Where is best to visit in Kathmandu? What are the best things to see in Nepal? So I thought it would be helpful to write down my top tips on the best things to see and do!
Having previously volunteered in Nepal for 6 weeks with Pod and then worked for Pod as the Volunteer Coordinator for a year, I like to think I know Nepal quite well. But, recently I went back to see how things had changed and as ever, this wonderful, magical, overwhelming country managed to surprise and inspire me once more.
Before travelling down to Pokhara, where our placements are based, I spent a couple of days in Kathmandu, the capital city, exploring and sight seeing. Kathmandu can certainly be a challenging place to be at times, it is busy and hectic but also so rich in culture and vibrancy. You only have to walk for a few minutes to stumble across another temple, shrine or heritage site. Many of our volunteers choose to spend a few days here either before of after their placement, something which I would highly recommend!
Without a doubt my top 3 things to visit in Kathmandu are:
Swayambhunath, other wise known as the Monkey Temple - a Unesco World Heritage Site and Buddhist temple, Swayanbhunath sits high on a hill looking over the city. The site itself consists of beautiful architecture including and variety of shrines and temples and is home to many monkeys who roam freely.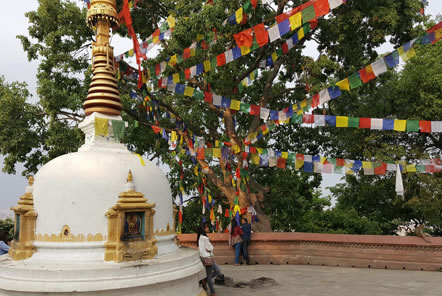 Durbar Square - Durbar Square is a name that refers to the temples and open courts surrounding the royal palaces in Nepal. There are three in the Kathmandu Valley, situated in Thamel, Patan and Bhaktapur all of which are UNESCO World Heritage Sites. With a rich heritage surrounding them and fascinating historical significance, these sites are well worth a visit.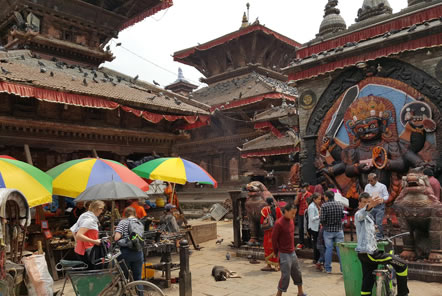 Boudhnath, sometimes known as Boudha – the largest stupa (Buddhist shrine or building) in Asia is truly a breathtaking view; in my opinion, there is nowhere like it! The eyes of Buddha are painted a top it, watching out over Kathmandu, the whole building has an air of magic about it. The surround is covered with prayer wheels and prayer flags, making it the most colourful and beautiful place to visit.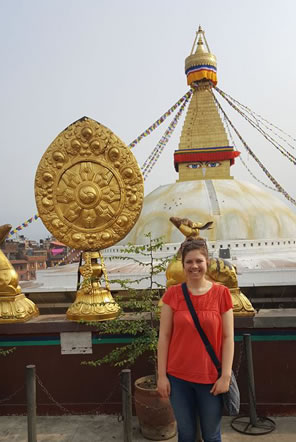 After exploring Kathmandu, it was time to head down to Pokhara to visit the placements and experience the fun there was to be had there! Our projects are based in Lakeside, a place popular with both locals and travellers. It is at the foothills of the Annapurna mountain range so is often used as a base before people go exploring. Having lived there for a year, keeping my top tips of things to do in Pokhara down to just 3 was tough – the place is full of activities and things to see. However here goes:
Sarangkot – a large hill in central Pokhara, Sarangkot boasts stunning views of the Annapurna mountain range. Whether you choose to stay overnight in one of the guesthouses or travel up in the morning to have breakfast watching sunrise over the mountains, this is an unmissable experience. It is also the take off point for the paragliders and parasailers – soaring over Lakeside with the backdrop of the mountains is something I will never forget.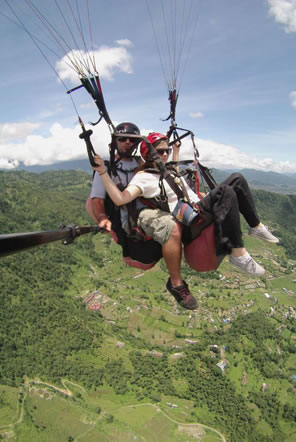 Phewa Lake – the stunning lake is the central focus of Lakeside. The bars and resutarants line the lake and are a lovely place to sit and drink a banana lassi and take in the beauty of the area. With yoga and meditation classes also available, the lake has a magical air about it. In the day it is possible to hire a boat and row out to the little island in the middle of the lake where Barahi temple sits, a stunning temple used for worship by both Hindus and Buddhists. It is also possible to row over or get a boat taxi to the other side of the Lake where you can do the short trek up to the World Peace Pagoda, a stunning monument built, alongside over Peace Pagodas worldwide, as a symbol of world peace.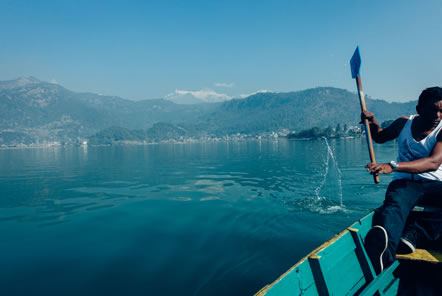 Tours – I cheated a bit with this one as there was still so much left to say! Whilst in Pokhara, I would highly recommend getting a tour of the sights, the easiest way to do this is to just hail a taxi on the street and ask how much to hire them for the day. I would recommend visiting the stunning Devis waterfall and caves nearby; the International Mountain Museum is also worth a visit for it's detailed information about life in the mountains and how people have managed to make them their homes. There are also some fascinating monasteries and Tibetan villages locally where the local women sell beautiful homemade jewellery, perfect for gifts.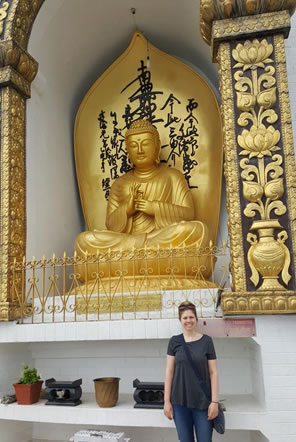 Nepal as a country is so full of activity and fun! You could explore the country for months and never run out of new things to see and do. If you have more time to travel or want to spend a weekend during your placement doing something different, then I have a few other recommendations that may be helpful:
Rafting – Nepal is the capital of the adventure sports, and in my opinion, rafting is the top one to take part in! Whether you choose to do a half day trip to the Upper Seti river, and 2 or 3 day trip down the Trisuli or a longer 10 day trip on the Sun Kosi or Tamur rivers, this is one activity not to be missed. Nepal boasts some of the best white water in the world, and with some amazing and experienced guides and companies to choose from and the chance to experience Nepal and see the beauty it has to offer from a different viewpoint, what's not to love?!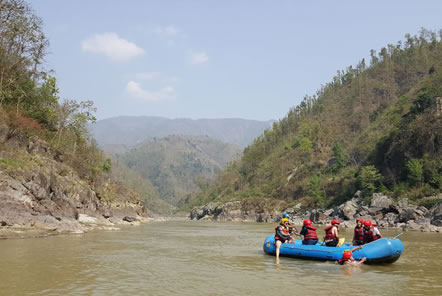 Chitwan National Park – famous as one of the best wildlife viewing national parks in Asia (Lonely Planet 2017) this is well worth a visit. Home to rhinos, wild elephants and tigers, I would recommend opting for a canoe ride down the river and a jeep safari; maybe you will get lucky and grab a glimpse of some of the many animals that call this place home!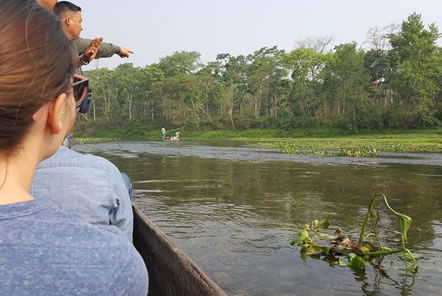 Trekking – of course! Who could travel Nepal and not go into the famous Himalayas? Whether you do an overnight trek or a 20 day one, walking through the mountain villages and staying in the tea houses along the way will give you a real taste for Nepali culture and mountain life.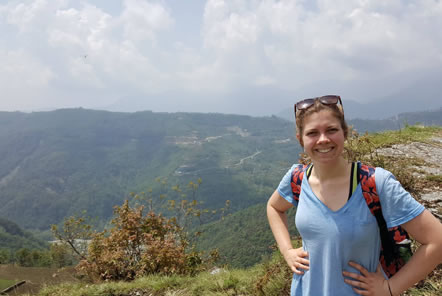 Accommodation - for example you can have a look at the Airbnbs or homestays in Nepal if you're looking where to stay, some amazing options!
Nepal is an amazing destination for a holiday and to spend time volunteering there as well is an amazing opportunity. We work with primary and secondary schools, children's day care centre's and a women's refuge in Pokhara and our volunteers are able to help with child care, teaching and sports coaching at these placements. My favourite part of being in Nepal is always the children – working with the children at the placements we support, and seeing them grow, develop and learn as a direct consequence of spending time with volunteers is so rewarding.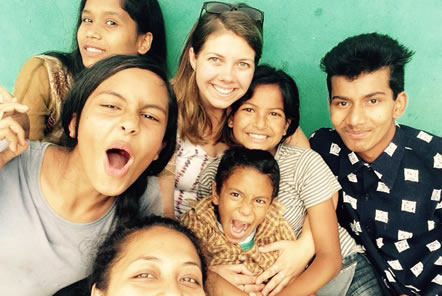 If you would like to find out more about volunteer in Nepal, you can do here: https://www.podvolunteer.org/destination/nepal
Back
SHARE THIS ARTICLE...
Share this article with your friends and followers by using the social media buttons below: