Read your way around the world - Ann Morgan's TED Talk
Volunteering & Travel Advice / 10 December 2015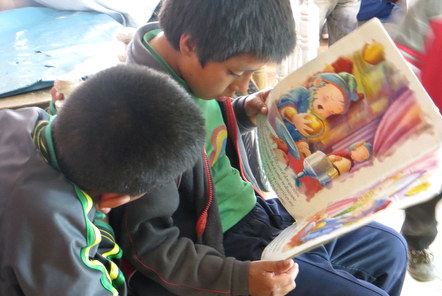 In 2012, author Ann Morgan set herself the amazing goal of reading her way around the world – reading 196 different books from all corners of the globe. We have taken a look at the books she read from the 10 locations that Pod Volunteer work in to look at literature from all of our countries around the world.
Belize
"On Heroes, Lizards and Passion" by Ziola Ellis
"The seven short stories in "On Heroes Lizards and Passion" paint a powerful and varied picture of life in Belize and the Belizean diaspora. Centering on moments when characters find release from fears, prejudices, assumptions, hopes and dreams, they reveal the way that, wittingly or unwittingly, we can change the course of one another's lives."
Cambodia
"In the Shadow of the Banyan" by Vaddey Ratner
"Inspired by Ratner's own childhood, the novel tells the story of seven-year-old Raami, a Cambodian princess who is evicted from her luxurious home in Pnomh Penh along with the rest of her family when the Khmer Rouge seize power in 1975. Caught up in the mass exodus from the cities as the regime seeks to eliminate all traces of education, culture, privilege and power, Raami endures four years of hard labor, starvation, abuse and terror in the party's brutal new rural order -- a world where her imagination is her only escape."
Ghana
Journey by Gheysika Adombire Agambila
"Journey" recounts the coming of age of Amoah, a teenage school leaver keen to make his mark on the world. Sex and girls are high on the adolescent's list, as are going to live with his uncle and getting a job in Accra, far away from his grandfather's traditional village. But as reality bites, Amoah begins to lose his prefect's swagger and realize there is more to life in contemporary Ghana than his neo-colonialist boarding school could hope to prepare him for."
India
Kaalam by M. T. Vasudevan Nair
"Kaalam" ["Time"], which won Nair the Sahitya Akademi Award in 1970, follows Sethu Madhavan as he leaves home for college and tries to make his way in the world. The expectations of his rural village rest on his shoulders and his excellent academic record seems to promise him a bright future. Yet, as the years pass and Sethu staggers from one failure to another, consoling himself with a series of hopeless love affairs, his potential seems to tarnish and warp and he grows disgusted with his life. At last, obliged to return to the family home he has spurned for so long, he is forced to face up to himself."
Madagascar
Voices from Madagascar, edited by Jacques Bourgeacq & Liliane Ramarosoa
"Published in 2002, the anthology brings together prose and poetry from more than 15 writers in an effort to address the lack of translated Malagasy literature (which its editors claim stems from the country's political isolation during its Marxist era and the fact that none of its publishers distribute abroad)... In addition, the collection provides some fascinating glimpses of Malagasy customs and mores."
Nepal
The Lazy Conman and Other Stories by Ajit Baral
"Irreverent, funny and occasionally disturbing, the stories evoke a world full of contradictions, frustrations and marvels. Gods walk the earth, bickering and betting, ghosts steal people's coats, rats get married and tigers talk."
Peru
Death in the Andes by Mario Vargas Llosa
"Menace is threaded into the very fibers of this book, which follows Corporal Lituma, a civil guard who features in several of Vargas Llosa's novels, as he and his junior officer investigate three disappearances in the mining community around their post."
South Africa
African Delights by Siphiwo Mahala
"Spanning the mid-late 20th century, this irreverent, gutsy and absorbing collection of interlinked stories paints a picture of life in the townships and luxury districts of South Africa. From witty, local tales of men's attempts to cover their infidelities, as in "The Suit Stories," to parabolic portraits of the betrayal of the nation for short-term gain in the title story, the pieces span South African society, weaving a complex, rich and vibrant picture of this land of contradictions and unsettled scores."
Tanzania
Desertion by Abdulrazak Gurnah
"Spanning 100 years, Gurnah's 2005 novel "Desertion" weaves together the threads that lead a young Tanzanian man, Rashid, to leave his homeland in the early sixties and make his life in England."
Thailand
Time by Chart Korbjitti
"Set in a theatre, the novel records the reactions of a 62-year-old filmmaker as he watches a show dubbed "the most boring play of the year" by Thailand's drama critics. As the action unfolds in an old people's home, the protagonist finds himself drawn into the slow drift of events, pausing now and again to imagine how he would represent the action if he were portraying it in a film. Distanced from his everyday routine by the strange suspension of reality the theatre affords, he reflects on the sad events of his life and in the end takes a great deal from the drama playing out in front of him -- although whether what he infers is what the play's director intends remains a mystery."
Vietnam
"Drawing on Bao Ninh's own horrific experiences during the Vietnam War (he was one of only 10 survivors out of a brigade of 500), the novel tells the story of Kien, a war veteran struggling to piece his life together after 11 brutal years on the front line. Haunted by the memories of what he has seen and thoughts of his teenage life before the war, Kien wanders through the city of Hanoi and a society he no longer recognises. But until he finds a way to express and work through his experiences, peace will remain another world."
To read more about all of the 196 books Ann read, what motivated her and a few of her favourites why not read the full TED article here or watch her TED Talk.
Back