My time in Lima
Project & Pod News / 15 November 2013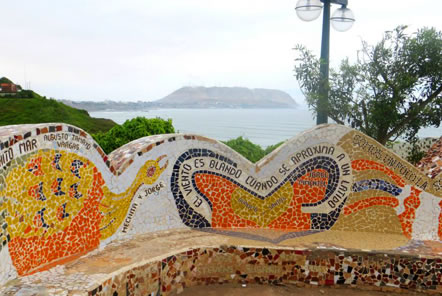 During my trip to Peru visiting our volunteer projects I spent two days in Lima. Lonely Planet acknowledges "Foreign travelers tend to scuttle through on their way to more pastoral destinations in the Andes" and whilst I admit, I too was one of these travellers (staying for only two days) I felt intrigued to see more of the less visited city.
Becky, Placement Manager
The landscape of Lima is inspiring; the city sprawls along the coastline perched on the high cliffs overlooking the Pacific Ocean with the houses painted colourfully across the hillsides. The coastline is ragged and on many of the peaks there are monuments for various Catholic saints, war memorials and to mark peace – including "Cristo del Pacífico" a smaller version of Christ The Redeemer in Brazil.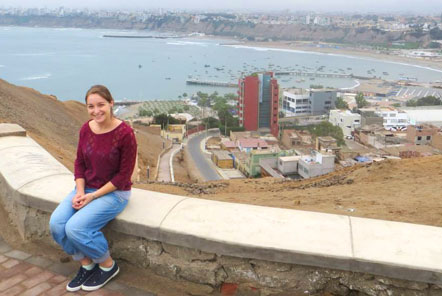 Unfortunately for my optimism I arrived in winter when "La Garúa" plagues the city of Lima. La garúa is a thick mist which turns the sky white and remains day after day from April to October. For the second driest capital in the world this fog is the life-blood of the region, with the sparse vegetation feeding from the moisture which coats everything overnight. Oddly the melancholic air that this fog produces has also influenced writers and many notable authors have commented on its strange atmosphere including Herman Melville, the author of "Moby Dick".
The mist however was not stopping my enthusiasm for the city and I joined a coastal cycling tour – booked via our recommended travel agency. I was met by my guide and driver who provided historical and cultural information on the city before starting the cycle tour (from a high point on the coast so it was mainly downhill!). The trip also included a brief stop at the Huaca Pucllana pyramid which is in the heart of the tourist district Miraflores and dates back to pre-Incan 'Lima Culture' 200-700 AD. In addition to cycling in Lima there appeared to be a myriad of things to do; live music, free entry museums, beautiful architecture in the old town and of course visit the chocolate making museum!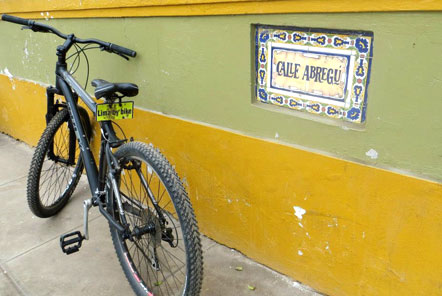 Whist cycling around the city the thing that struck me was the contrasts everywhere that you look. Lima's landscape is arid and dry however it is met by the emerald sea, most buildings are colourful square brick buildings but interspersed are incredible colonial architecture and glitzy modern apartments, and of course the poverty is well known and in some places very evident however Miraflores is made up of shiny boulevards and neat gardens overlooking the sea.
For all Miraflores' tourist-sheen, the vibe of the district is positive and this is where most hostels and hotels are based. I stayed in Red Psycho Llama hostel, a friendly, clean and comfortable hostel in easy walking distance from everything I needed. Lima is also becoming famous for its cuisine and Miraflores hosts a number of high ranking eateries. In 2009 "Bon Appetit" named Lima the "next great food city" and the Limeños have taken this very seriously with chef Gastón Acurio becoming something of a national hero. Traditional Peruvian dishes include cuy (guinea pig), cerviche (seafood marinated in lime juice) and various soups and stews. Fusion is also embraced and "Chifa" (Chinese) is available everywhere and has influenced dishes such as traditional lomo saltado (beef stirfry) and arroz chaufa (Chinese fried rice).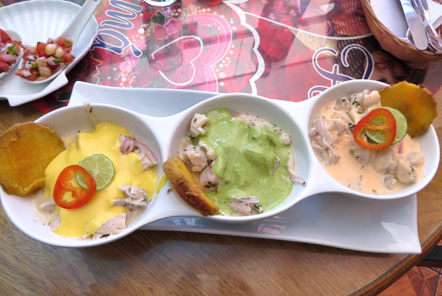 Although Lima initially appears a grey brash sprawling expanse, speaking to Limeños and exploring the streets you soon find that there are layers and it is melting pot of cultures, languages and nationalities. It is also a city steeped in history, from the grand colonial buildings, post-independence war memorial to the ancient remnants of some of the world's oldest civilisations. I definitely recommend that volunteers staying here as part of a stopover venture out into the city and explore all it has to offer!
If you are considering a stop-over in Lima, why not speak to our friends at StudentUniverse to see what half-day and full-day tours they have available. I found the cycling tour perfect as a solo traveller!
To see all our volunteer projects in Peru please see: https://www.podvolunteer.org/destination/peru
With thanks to -
Lonely Planet - www.lonelyplanet.com/peru/lima
Peru This Week - http://www.peruthisweek.com/blogs-garua-limas-fog-50013
Bon Appétit - http://www.bonappetit.com/restaurants-travel/article/lima-the-next-great-food-city
Back