My return to the Reef Conservation project in Belize
Volunteer Experiences / 20 July 2015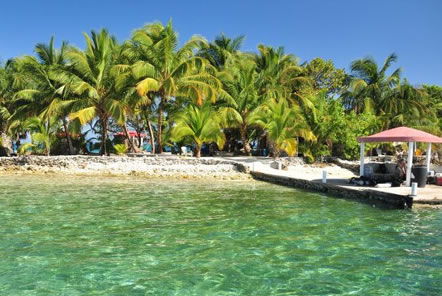 Erin from the Pod Volunteer office returned to Belize to revisit the projects we work with there. In this first part of her Belize blog she returns to the Reef Conservation project.
I was excited to be back in Belize and heading south to the Reef Conservation project. The last time I visited I completed my PADI Open Water qualification and I was looking forward to getting back in the warm Caribbean waters, do some more diving and learn more about the project's conservation work.
I arrived into Placencia during Lobsterfest; this is a festival which is celebrated in a few locations around the country. In Placencia it means lots of singing, dancing and amazing lobster dishes. Many of the local restaurants and food stalls compete to see who can make the best dish and there are judges to determine the winner. Placencia is quite a small town but is very popular thanks to its 16 miles of beautiful sandy beaches.
On that first night I met father and son Mark and Andrew, who are a had joined the Reef Conservation project with Pod Volunteer last year and who were returning to the island for another week this year. I also met another Pod Volunteer Elysia who had volunteered at the project for 3 weeks back in November and then joined the Caribbean Wildlife project for 3 weeks. After this Elysia returned to Belize and to the Reef Conservation project where she had gone on to qualify as a dive instructor and would be one of the instructors during my trip. It was amazing to see as Elysia had joined the project originally as a beginner diver who wanted to do her Open Water and perhaps her Advanced course and here she was a few months later instructing others!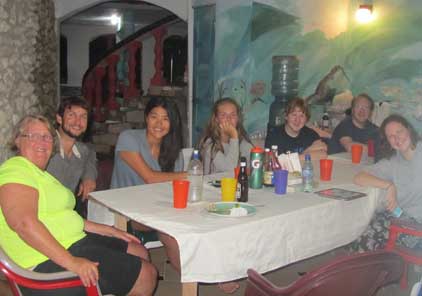 On Sunday nights volunteers (and instructors) tend to get together for dinner which is great as you can meet the rest of the group that you will be spending the next week or longer with. Volunteers were from a complete range of ages and backgrounds which was really nice. As well as the conservation volunteers there were also people travelling to the island to fish, the project allows fishing guests to fish in a responsible and sustainable way and the fishing guests and volunteers get to eat their catch of the day (delicious) but more of that later!
On the Monday morning we all met up for breakfast and were then taken to the dock to load the boat (a much bigger boat than on my last visit)! We then headed across to the island which takes around 90 minutes. We arrived and were shown our rooms and new volunteers were given a tour of the island, volunteer house and cabanas and then it was time for lunch.
After lunch it was time to sort out our gear so new volunteers are fitted for wetsuits, BCDs and weights and once everyone was ready we set off on a shore dive to act as a refresher. This allowed everyone the opportunity to get used to their equipment again and to ensure everyone was carrying the correct weight.
The next day we had 3 dives planned and for those of us completing our PADI Advanced course, this was our Underwater Naturalist dive. Before heading out on the dive we were taught how to spear lionfish. The project does this regularly as lionfish are an invasive species to the area and are causing huge problems to both the fish and corals, so this is a way to control their numbers in the area. They are prolific breeders and can release around 20,000 eggs every 4 days! Our practice involved a talk from Tom (one of the instructors) who explained and then demonstrated how we should be doing this safely, we then practised on coconuts.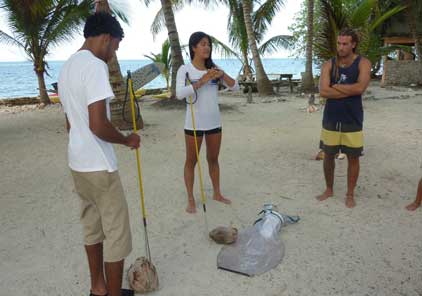 We headed out on the boat for the dive and returned with 18 lionfish (this is quite low compared to some dive sites where the team have come back with over 60). The lionfish are then all measured, and details such as size, sex and stomach contents are recorded to build a profile to aid the understanding of their behaviour and feeding patterns. The fillet is kept for lunches and dinners at the project and the spines are cut and dried in the sun and then transported back to the mainland at the end of each week for a community programme where local women make these into jewellery to sell.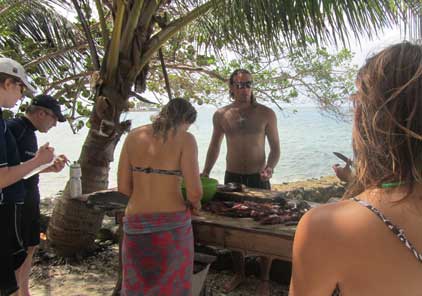 Our final dive of the day followed a lecture on fish ID and was a fish monitoring dive where data is collected on the fish species encountered on the dive and really put our fish ID skills to the test (this was also part of our Advanced course). The project also complete commercial fish studies. This is one of the really great things about completing your Advanced course at the project; it is really well incorporated into the conservation work that the project is doing so that you're able to learn and gain additional dive qualifications at the same time as contributing to the conservation work. Another example of this is that it is now possible to do a PADI Invasive Lionfish Speciality Course which is also integrated into the work that the project is already doing around lionfish (with a small amount of theory too).
Back to the food briefly! This is one of the few projects we have where most of the volunteer feedback specifically mentions how good the food is and it's not hard to understand why. Most main meals contain fresh fish caught that day and whilst I was there this included lionfish, mackerel, kingfish and barracuda.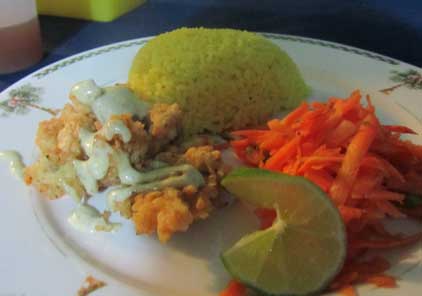 The next day it was time for our deep dive (another requirement for the PADI Advanced course) so we all set out on the boat and the Advanced group headed deep for our dive whilst the rest of the divers were on a lionfish spearing dive. We headed to the end of an underwater wall for the dive and a huge black grouper swam up out of the depths and passed us.
As part of the deep dive, Hayley (our instructor) had painted her nails different colours and showed us them on the boat and then when we got down to 30m we looked at her nails again to see the effects that underwater depth has on colour perception, it's really interesting to shine a torch on the coral at that depth to see its true colour. Some tasks and decision-making can be more difficult at this depth. One of the tasks we did to test this was to complete a number finding activity on dry land and then try it again underwater to see the difference in the time it took in both conditions.
We had a lecture on corals; the different types that we could see on our dives, what affects them and how to identify coral damage which was really interesting. We then went on a dive to examine these corals and this data is collected and sent to EcoMar which coordinates marine conservation projects that focus on conserving the Belize Barrier Reef Reserve System World Heritage Site.
Unfortunately our last dive of that day was called off due to bad weather so we had a relaxed afternoon playing cards with other volunteers and project staff. Sadly the storms continued through the night meaning that we couldn't do our first planned morning dive but then a window became available later that afternoon and so we had 10 minutes to get ready and on the boat (there are few things in life that are harder than trying to get into a wet wetsuit in a hurry)!
This was our peak performance buoyancy dive so we ran through our practical skills for that first and we were rewarded at the end of it by seeing a big beautiful eagle ray swim right passed us! We re-joined the rest of the group who were on a lionfish spearing dive. This was one of my favourite dives for seeing marine life, as we were watching a nurse shark lying in a coral corridor (an amazing sight in itself), a hawksbill turtle popped up out of nowhere and swam right passed us. I'm always amazed by how quickly they can move through the water. To finish a brilliant dive, as we were doing our safety stop, we had another nurse shark circling beneath us.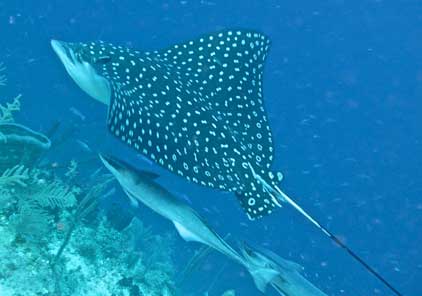 Our afternoon dive was our final practical dive for the Advanced course; it was the navigation dive. We practised using the compass on land and then did a shore dive where we learned to measure distance based on kick cycles, used our compass to navigate in a straight line and then turn 180 degrees to swim straight back again, then to complete a full square (turning 90 degrees at the end of each stage until you are back in your starting position). The final element is using the environment to provide natural markers to navigate your way to and from a given point. This last one is a really useful skill to have so you can use things like the angle of the sun, current, patterns on the sand and features such as seagrass or coral fans to guide you. Whilst other members of the group were doing their skills we were able to observe the fish and corals at our base which was fascinating to watch.
At the end of this dive Hayley congratulated us all underwater letting us know that we were now all PADI Advanced divers!
Another storm moved in which meant that unfortunately we were unable to complete a night dive; something that I had been a bit apprehensive about, but Andrew who was only 16, had joined the project the previous year had said it was one of the best dives he'd ever done and had been able to see bioluminescence (a living organism producing and emitting light) so this was a shame but it's yet another reason to return.
For our final dinner we enjoyed a buffet of fish, rice and vegetables and enjoyed a few beers and rums whilst chatting to other volunteers and playing a game of 'heads up'. Although there had been another storm that evening, it had cleared up in time for us to go on one last dive before heading back to the mainland. After the dive we packed up our stuff and headed back on the boat. The rest of the volunteer group were making plans to get together for dinner that evening, but for me, it was time to head to the next project on my visit.
To read about my first visit to the project, click here: https://www.podvolunteer.org/blog/belize-trip-highlights-reef-conservation-part-1-of-3
I'd had another amazing time at this project and look forward to returning next time. To read previous volunteers' experiences at the Reef Conservation project please see the following link: https://www.podvolunteer.org/marine-conservation-belize-reviews
To find out more about this project and how you could join click here: https://www.podvolunteer.org/projects/marine-conservation-belize
Back