Meet the elephants in Thailand
Project & Pod News / 16 May 2018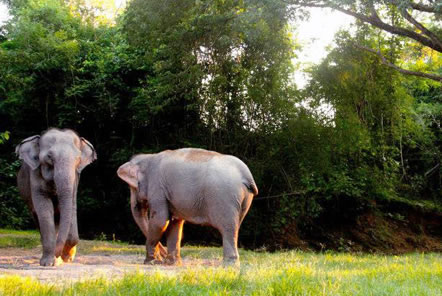 The Elephant Care project in Thailand is home to nearly twenty elephants. At the project staff and volunteers care for their health and well-being round the clock. The centre provides refuge to domesticated elephants in an environment as close to nature as possible, the elephants have large enclosures with vegetation, shelter and, where possible, their own lake. They are also kept chain free in spacious enclosures – a very different situation to the previous life many of the elephants have experienced in tourist camps or in the logging industry.
Our Elephant Care project forms part of a bigger Wildlife Rescue Centre (in the same location) where there are currently over 300 rescued animals. These include a large number of primates, bears and other small mammals as well as cheeky otters, exotic birds and a crocodile aptly named 'Dundee'.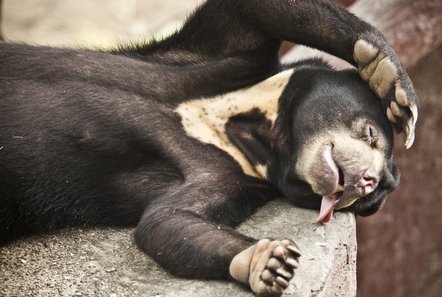 We thought it might be nice to introduce the elephants at the project currently, and to give you a bit of a background about them!
Duen Pen
This old lady arrived at the Elephant Care project in March 2012 having spent over 25 years working in a tourist elephant camp. She was unwell and weak on arrival at the centre but has thrived ever since. Becky, from the Pod UK Team, was lucky enough to witness her arrival, at age 50 entering her retirement at the centre. She has become close friends with See Puac who is a similar age and shares her enclosure. In December 2013 thanks to volunteers' hard work both elephants were able to enjoy a brand new specially designed enclosure with much greenery and a natural pool for both Duen Pen and See Puac to bathe in.
Duen Pen is pictured below:
See Puac
See Puac was born in the wild but she was sadly captured at age 10 to work in an elephant camp; though illegal this practice is not unusual in Thailand. She spent approximately 25 years performing tricks, giving rides and entertaining tourists however she retired in 2011 and was welcomed by the Elephant Care centre.
Compared to many of the other elephants See Puac's overall health was good on arrival although she had digestive issues, minor abscesses and bull hook wounds from her training. Prior to her arrival at the project she had been kept on a very short chain at all times, the initial long chain on her first night was very exciting and within a few days she was chainless and free to wander in her paddock.
See Puac is known at the centre for her love of food; this elephant is particularly fond of a treat or two and volunteers enjoy hiding the fruit. One year after she arrived at the centre she was joined by Duen Pen and the two are now very close and share an enclosure together.
See Puac is pictured below: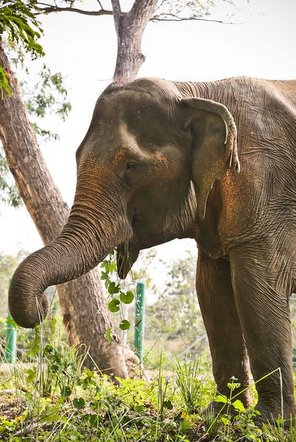 Namfon
This beautiful old lady joined the centre in late 2013 having previously worked in a tourist elephant riding camp. In the camp, when she was not working she was kept on a two foot long chain and so her new freedom at the centre is much appreciated. She has a gentle and friendly temperament and has found a new best friend in Jelle.
Jelle
Jelle is 55 years old and was very unwell when she join the centre in November 2015, having severe stomach issues and several abscesses. She is now well on the way to recovery and enjoying spending time with Namfon. Despite her age, Jelle has developed a playful and fun nature and is intrigued by everything.
Namfon and Jelle are pictured below: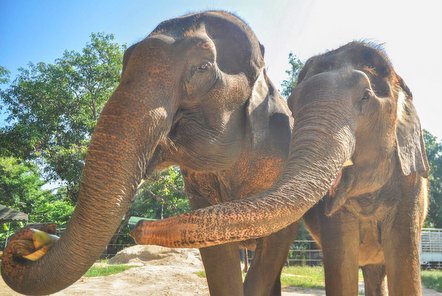 Chokdee
This easy going elephant is 50 years old and joined the centre in November 2015. She was rescued from an elephant camp, where she had spent the previous 20 years and chained in a shelter when not working. Chokdee now spends her days grazing and enjoying her freedom.
Chokdee is pictured below: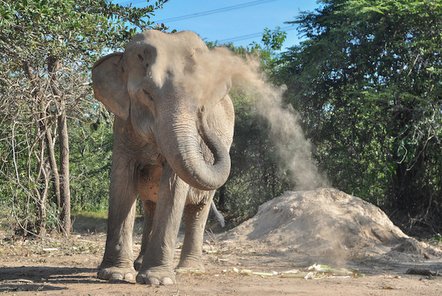 Pun & Pin
Pun and Pin, a mother and daughter pair, arrived at the centre in July 2015. The mother and daughter were about to be separated with the 8 month old baby Pin about to be sold into the tourist trade, so both elephants were rescued and are now enjoying life at the centre – little Pin will now never have to know life as a working elephant! These two have a huge bond and are never far apart. Day by day Pin is gaining confidence to explore for herself but is never far from the safety of her mum!
Pun and Pin are pictured below: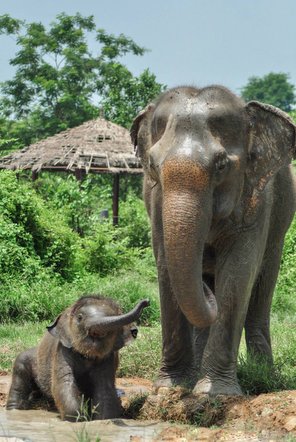 Pailin
Although many of the elephants arriving at the project have health issues, Pailin was in a particularly bad condition on arrival at the centre. The 70 year old large Asian elephant had worked for many years on the city streets and giving rides to tourists. She was severely underweight and dehydrated and had respiratory infections which the centre immediately treated. In addition to this, as a result of carrying a heavy 'seat' (with up to six tourists in it at any one time), her back is deformed, although thankfully she doesn't appear to be in any pain with it.
Following treatment by vets on site at the centre her health improved and she has settled in very well and is particularly close to Namphon. Pailin has a very gentle temperament and is sociable with all the other elephants, instead of pounding up and down busy city streets, she now enjoys the fresh air, forest walks and relaxing life at the centre.
Pailin is pictured below: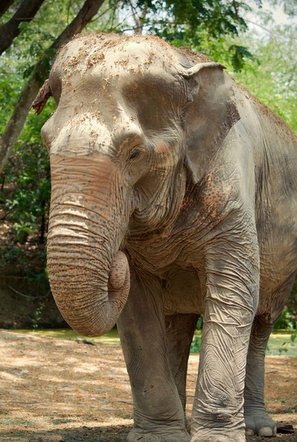 Dao Reng
Dao Reng had lived a very hard life before arriving at the centre. She is blind in her left eye and covered in numerous scars across her body, as well as having an injury in her leg. Despite all of this she was still forced to take part in the tourist trade and carry tourists every day. Nowadays she spends time looking for the hidden treats and enrichments the volunteers cleverly think up for her and looking forward to her next meal – she loves her food!
Dao Reng is pictured below: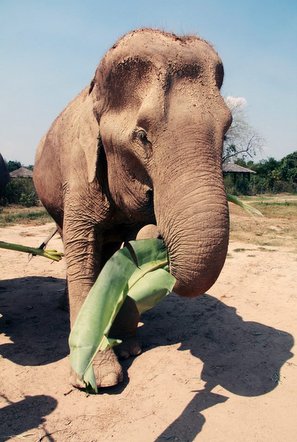 Boonchuey
After spending many years working on the streets of Bangkok and in other parts of Thailand giving rides to groups of tourists, Boonchuey is settling in well to her new life at the centre after arriving in May 2014. She is quite healthy despite the many scars she has from her working days. Her favourite past times are foraging in the trees for snacks and swimming in the lake!
Boonchuey is pictured below: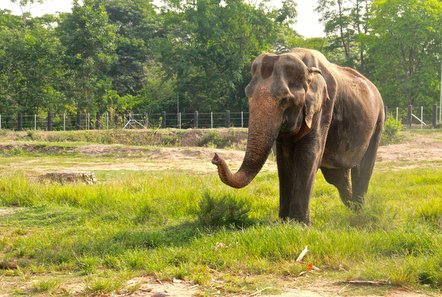 Wasana
After more than 40 years of work in the logging and trekking industries, this small but confident elephant was retired to the centre in July 2016. She is very active and friendly, and has found a perfect friend in the form of the gentle Namphon.
Wasana is pictured below: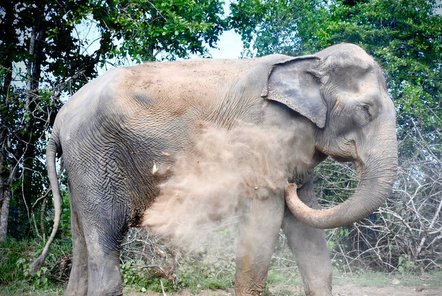 Laong Dao
Laong Dao was rescued in November 2014 from a tourist camp where she had been worked to the point of exhaustion, giving rides to visitors. She is a gentle and friendly older lady who enjoys spending time with her elephant friends. Her favourite thing to do is swim in the lake and she will spend lots of time in the water, splashing and spraying herself!
Laong Dao is pictured below with her friend Kew Petch: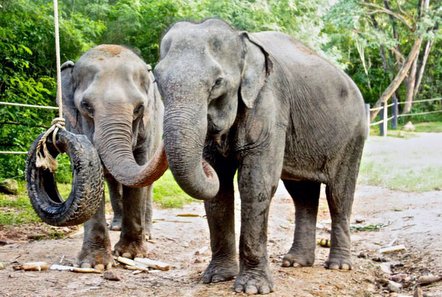 Som Boon
Som Boon was previously used as a begging aid working on the city streets, this is a harsh environment for elephants and can cause a number of health related issues and can be very dangerous. Som Boon was hit by a car which severely damaged her leg and has caused long term issues. She came to the centre when she was 45 years old and will never be as strong as she should be. She is however particularly fond of the lake and pool in her enclosure.
Som Boon shares an enclosure with Kanklouey, the boisterous young male needed a female role model and Som Boon has been excellent at this.
Som Boon is pictured below: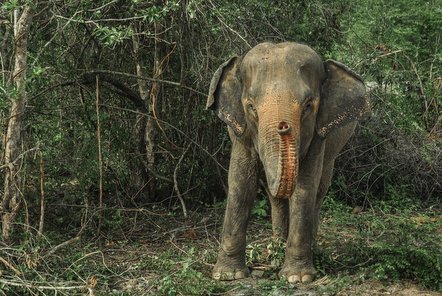 Kanklouey
He is currently the only male (bull) elephant at the centre. He was born into an elephant camp and was destined to become a "dancing elephant" however at three years old the centre rescued him and brought him from this location. Kanklouey is rather mischieveious and lives under the watchful eye of 'adoptive mother' Som Boon. He loves to play with grass, bamboo and wooden enrichments (which volunteers often take time to make him), but most of all he likes volunteers to throw food and toys into the big pool, so he can enjoy a play and a swim at the same time! Thankfully, as he was rescued at a young age, this wilful little elephant will never have to carry tourists, haul logs, or beg on the streets.
Kankluey is pictured below: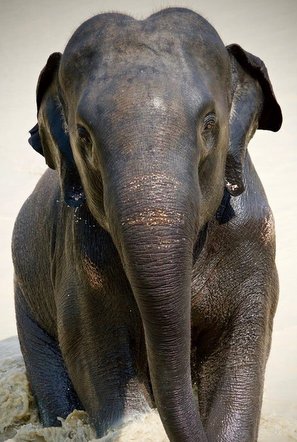 Malai Gun
Arriving at the centre in December 2016, Malai Gun had previously spent nearly 65 years being exploited in first the logging industry in Thailand and then for the last 10 years giving rides to tourists. Whilst she was used as a logging elephant, she sustained an injury to her left eye leaving her completely blind in this eye. She has settled into life at the centre well.
Malai Gun is pictured below: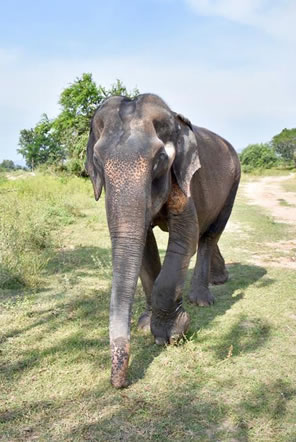 Alicia
Alicia is in her mid 50's and has spent the previous 6 years giving tourist rides in an elephant camp and prior to that she was used in the logging industry. Since being rescued, she has settled into life at the centre well and has been enjoying the freedom of exploring her new home chain free.
Getting an elephant to safely adapt from being chained and controlled by a 'bull hook' (or stick) to having freedom takes time; as many elephants have been treated like this for 50+ years of their life. The centre uses a staggered approach to help the elephant acclimatise to their new environment and freedom. Chains are never used at the centre after the first few days, except in special circumstances when they are necessary for the safety and well-being of the animal.
For some of the elephants that join the centre the care simply comes too late; years of being worked within the tourist or logging industry, poor nutrition and abuse can cause long term health problems for the elephants. The centre works hard to campaign against their mistreatment, as do groups such as Tourism Concern.
Thanks to the fantastic fundraising efforts of previous volunteers and friends of the centre, the centre is able to continue to rescue elephants in need. We will provide more news updates on new rescues, keep an eye on our facebook page for updates!
If you would like to volunteer in Thailand to care for the elephants at this project, please see the following page for more details: www.podvolunteer.org/projects/elephant-sanctuary-thailand/
Back