Lucy's experience at the Child Care project in India
Volunteer Experiences / 26 July 2017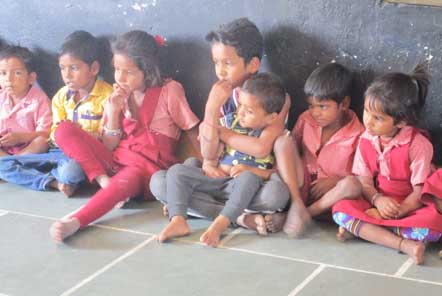 Since joining the Pod Volunteer UK team I have loved learning about what the Child Care and Community Education team in India get up to but couldn't wait to experience it for myself.
I had volunteered in Ghana on the Child Care placement but had never visited India, so I was excited to experience this colourful and slightly chaotic country for myself.
As a solo female traveller I had a few worries before arriving, but I shouldn't have at all as from the first minute the team made me feel right at home and were a great support throughout. From teaching arts to our host family mother Neha's chai tea – this is a very special project which will stay with me and I can't wait to support more volunteers to come and join the team here. I have also shared by expereinces at the Community Education project in India in my blog here.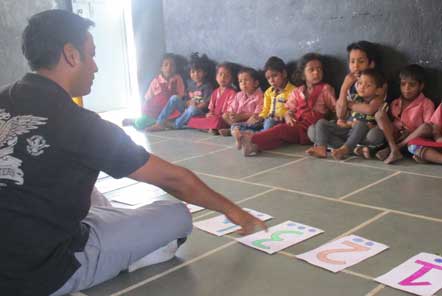 During my time in India on the Child Care project in Udaipur, I joined Ravi who runs the project team, in leading fun activity sessions at a nearby day care centre, which is set in the heart of the local community, providing both health and education services to the communities, including children's vaccinations and nutritious food for new mothers.
At this particular day care centre, there are three members of staff – a cook, community worker and a teacher.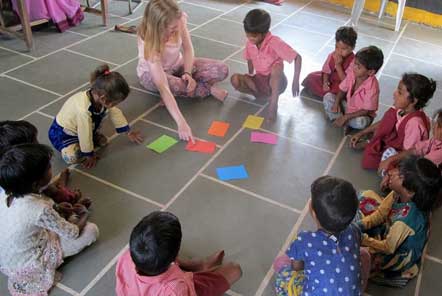 Whilst the children attending the centre are young, between the ages of 1- 6 years old, they greatly benefit from experiencing the classroom environment prior to starting primary school. Any head start in learning and using English phrases will set them up well for primary school. We started the day we a rendition of their 'Good Morning' song paired with actions and use plastic animals to help the children in learning how to identify animals.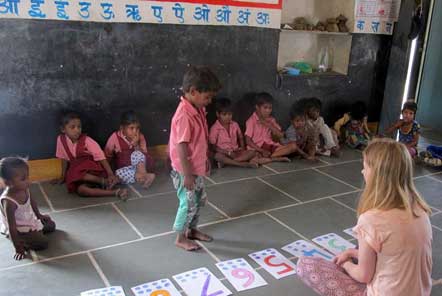 The children were doing so well at this that we even had time to move onto a maths activity, encouraging them to count out the dots on the number line we had created on the classroom floor. As many of the children are only starting to grasp basic phrases in English, Ravi's steady support is really helpful to volunteers navigating the language barrier and to explain each activity.
As the children's attention started to waiver, we decided it was time to move onto some craftwork. We earlier prepared some cut out crowns for the children to decorate with their own personal touch using colours and stickers, some of the children were learning how to hold a crayon for the first time but soon got a grasp of it. They loved parading round the classroom showing off their work to each other!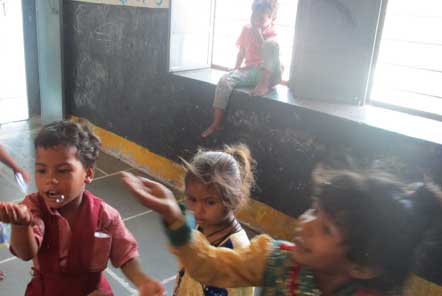 Traditional playground games are enjoyed by children in Udaipur as much as they are at home, so volunteers are always welcome to bring their own ideas and suggestions. Ravi and I found that a game of 'duck duck goose', followed by blowing bubbles was something the children were really enthusiastic to try after making their crowns. However, the children were so excited from the fun and games that we introduced a game of sleeping lions to quieten them down before their lunch!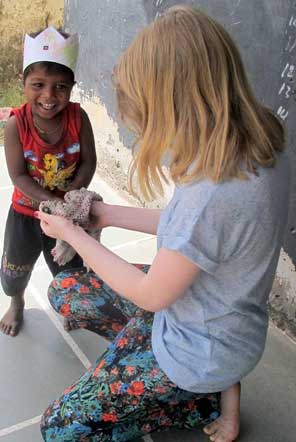 Part of the role of the day care centre is to promote hygiene practices, volunteers as well as leading the session set an example in helping the teachers wash the children's hands before they eat their lunch.
I had a fantastic time volunteering at the Child Care project in India. You can find out more about the volunteering role and how you can help support children in Udaipur here!
If you would like to apply to be a Pod Volunteer supporting the Child Care project in India then you can apply here: www.podvolunteer.org/apply
Back