Learning the local language at our Ghanaian projects
Volunteer Experiences / 01 June 2018
Did you know that according to the Ghanaian embassy, there are more than 250 languages and dialects spoken in Ghana? English is the country's official language and is what predominates government and business affairs. It's also what children are taught in at school – which is why it's so valuable to our projects in Ghana to have English speaking volunteers!
Whilst it's certainly valuable to speak English with the children and community during your placement in Ghana, we think it's also important to learn some of the local dialect too!
The main language that is spoken at our projects in Ghana is Twi – the most widely spoken language in Ghana. It is very difficult to find information about this language online, so we thought that in order to help our volunteers prepare for their trip we would create a useful words and phrases list.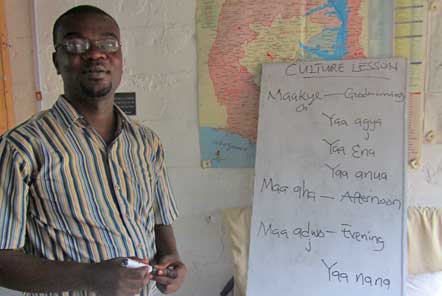 Master Gyampoh, the head teacher at the school that our volunteers work at, helped us to compile this useful list:
Hello - Ete sen (pronounced Etay-Sen)
Goodbye - Akyirii (pronounced A-chi-ree)
Thank you - Me da wo ase (pronounced Me-daa-say)
Sorry - Due (pronounced Doo)
Welcome - Akwaaba (pronounced Ak-waa-ba)
How are you? - Wo ho te sen? (pronounced Wo-ho-te-sain)
I am fine - Me ho ye (pronounced Me-ho-yeh)
What is your name? - Wo din de den? (pronounced Who-din-dee-den)
My name is - Me din de (pronounced Me-din-day)
Where are you from? - Wo fri/fi he? (pronounced Who-free/fee-he)
I am from - Me fi (pronouned Me-fee)
How old are you? - W'adi mfe ahe? (pronounced Way-dee-fay-a-he)
I am X years old - M'adi mfe X (pronounced Maa-dee-fay
This should hopefully get you started! If you're eager to learn more, Master Gyampoh runs regular 'cultural lessons' with volunteers during their placements and is very happy to incorporate language lessons with them as well!
You can find out more about our projects in Ghana here.
Back
SHARE THIS ARTICLE...
Share this article with your friends and followers by using the social media buttons below: