Laura's experience at the Child Care project in Ghana
Volunteer Experiences / 18 September 2017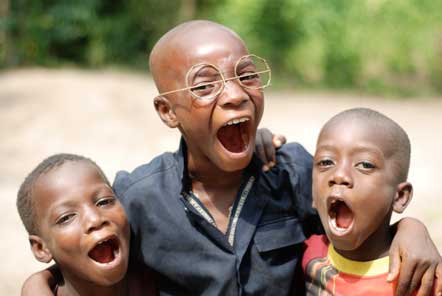 Laura chose to spend her holidays volunteering at our Child Care project in Ghana! Whilst there, we chatted to her about her experiences…
Describe a typical day at the Child Care project in Ghana?
"I start in the crèche in the morning, school starts at 8.30am. The crèche is taught by a lovely lady called Madame Adelaide so I work alongside her. We then do the registration and the children eat their breakfast. We then begin the day by playing jigsaws and stacking games, which the children love. After that we sing songs and basic nursery rhymes, both Ghanaian and English ones. At 10am, the children have a break and at the point children from the other classes come in and we play clapping games and sing and dance. After that the other children return to their own classes, and I spend time with the children in the crèche colouring and doing basic arts and crafts. At 11.30am the children eat their lunch and then I take my own lunch once they are finished. After lunch we spend time playing doing sensory games. School finishes any time between 12.30pm and 2pm and so at the end of the day we tidy up the classroom.
After a couple of hours rest and planning time, I run the after school club at around 3.30pm. I take different arts and crafts each day and children from the village stay come and stay for around an hour. The children love having this time to be creative as there is no arts on their school curriculum."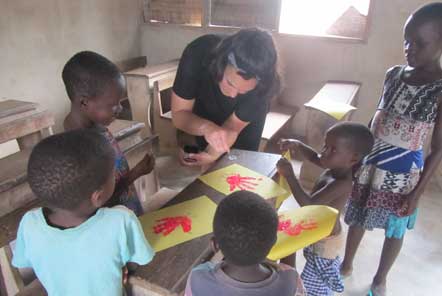 What has been your highlight so far?
"There is one little 3 year old girl in the crèche who is incredibly bright and I spent time working with her to teach her about ordering shapes, she can now differentiate between small and large and then order cups or blocks accordingly. I feel like, for that small moment, I have truly been able to make a difference. Obviously I am here and loving it and having fun, however I will leave feeling like I truly made a difference in a small way to that little girl and taught her something she will be able to transfer and use in the future. On top of that I know that she, as well as the other children, are learning English just through talking to me and interacting with the other volunteers and that is so positive and useful for their future development and lives."
What have you found most challenging?
"The cane being used in the school. This is really difficult to see but the local team are really supportive and I feel comfortable talking to them and getting their advice."
Why did you choose Pod Volunteer?
"I found them online and I knew I specifically wanted to volunteer in Ghana. I have family from West Africa and so I knew I wanted to come out to this part of the world and this project was exactly what I was looking for."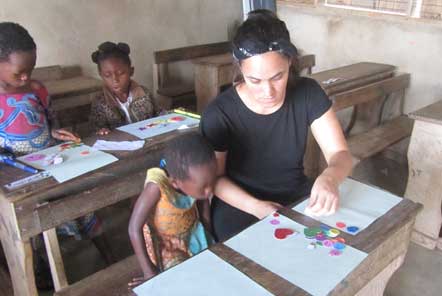 What are you most happy that you packed?
"All the different arts and crafts resources I have brought with me. I can see how truly appreciated they are and it is great to see. It is really important to come prepared and think about what you want to do with the children, so I came with resources to achieve this and they are invaluable. The head torch is also a must, for the late night trips to the long drop toilet!"
What have you done in your free time?
"I have spent time with the children in the village and got to know them, they always want to play and chat. I have been out to visit local sights such as Boti Falls, an amazing waterfall nearby, Umbrella Rock and the Bead Market in Koforidua. We went to Aikins, our volunteer coordinator, house for dinner cooked by his mum which was lovely and so nice to get to know his family better."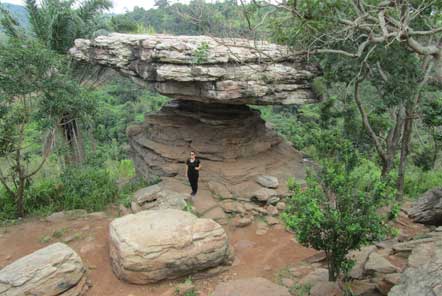 What advice would you give to people looking to come to volunteer at the Child Care project in Ghana?
"Don't come thinking it is going to be a holiday. It is hard work, both physically and emotionally! Be prepared for everything. You can have anything from 4 children to 40 in your classroom. It definitely helps if you love kids but it can get very hectic!
I would also advise volunteers to learn the basic greetings in Tui (the local language), as you will have a cultural lesson from Master Gyampoh the local teacher after your first few days and he will run over it all. However, as greetings are so important here I would advise people to learn a few words before they come.
I think, on a practical level, it is important for volunteers to think about the clothes they bring. It is important to wear clothes that cover your knees but strappy tops are fine.
I am having a brilliant time, I would highly recommend volunteering in Ghana!"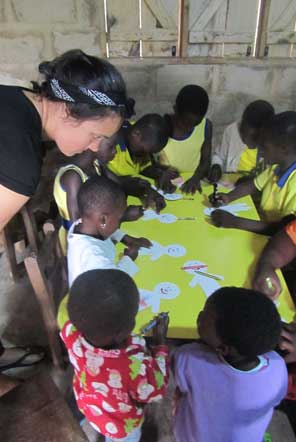 A huge thanks to Laura for sharing her experiences with us! If you would like to find out more about how you can get involved in the Child Care role in Ghana you can do here: https://www.podvolunteer.org/projects/child-care-ghana
There are also opportunities to volunteer in Ghana at the Building, Teaching, Film and Photography and Sports Coaching roles!
Back
SHARE THIS ARTICLE...
Share this article with your friends and followers by using the social media buttons below: