International Sloth Day – Updates from Costa Rica!
Project & Pod News / 19 October 2018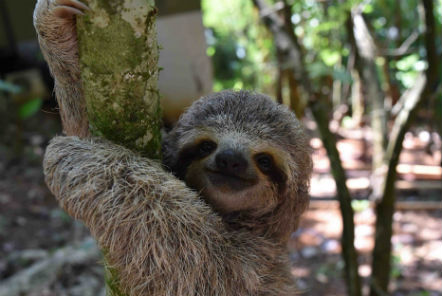 We are really excited to celebrate International Sloth Day by sharing some exciting updates from our Wildlife Rescue project in Costa Rica.
The Wildlife Rescue team helps to rescue, rehabilitate, and where possible release, sloths and other animals that have been injured or mistreated. It has certainly been a busy period at the sanctuary with the team work tirelessly to give the care and support these sloths need – a huge well done to all the volunteers and staff involved!
Dona's Road to Recovery
Dona, a large male two-toed sloth, was found on the road side having been hit by a car and was rescued by Dani and Kerri from the team. If this wasn't bad enough, over the next few days Dona started developing electrocution burns which revealed he had in fact been electrocuted by high voltage electrical wires and fallen onto the road prior to being hit by the car. These injuries resulted in Dona being paralyzed from the waist down.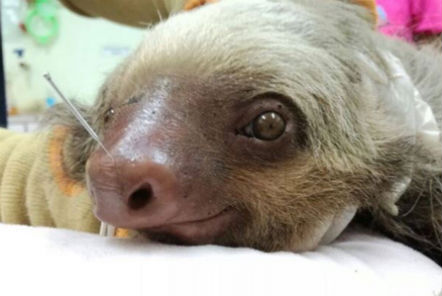 The team have been working hard to rehabilitate Dona. An acupuncturist regularly cares for him, additionally he receives therapeutic massages and physical therapy by exercising in specially designed enclosures.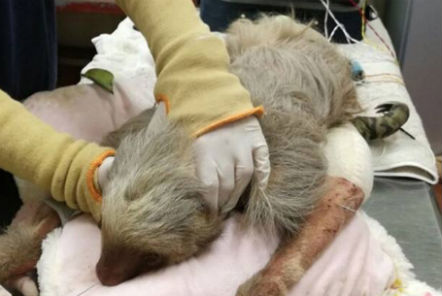 These efforts have certainly paid off, as Donna has started to hold himself up, using his back legs!
Monty's Heart-Breaking Story
Monty, a baby three-toed sloth first arrived at the centre after a minor fall. Whilst at first he seemed very strong and healthy, it soon transpired he has a serious heart condition.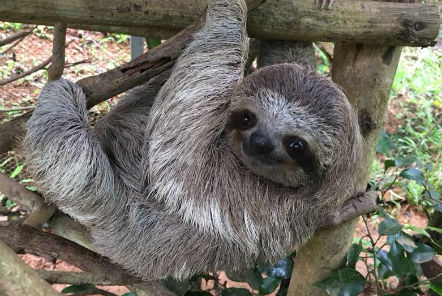 But the team are determined to do everything they can to give him the best chance at life, with supervised exercise and treating him to lots of his favourite cinnamon leaves!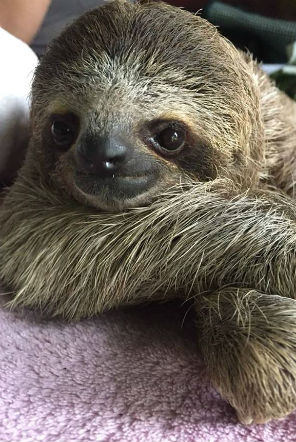 Monty is continually building his strength and we are delighted to share this adorable video of him swimming in a paddling pool:
Kiwi's Release Success!
Recently Kiwi, a large male two-toed sloth, was released into the Manuel Antonio National Park, and the team were anxiously waiting for news on how he was getting on!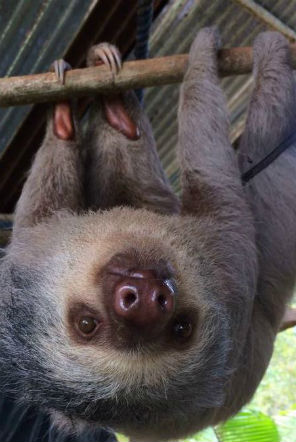 The Wildlife Rescue team recently received some incredible news that a park ranger had spotted Kiwi on Playa Espadilla Sur, a beach within the park. Kiwi had found a tree and made himself at home in the rainforest!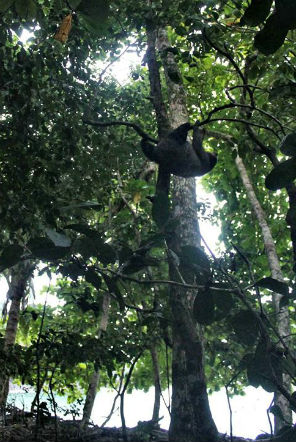 He was easily identifiable as his back legs had been dyed so that rangers could monitor his progress. However, the dye is now wearing away and Kiwi is thriving in his natural environment! This achievement is all the more outstanding given Kiwi came to the centre as an orphan and had to be carefully rehabilitated to ensure he was fit for release.
Sloths are amazing animals that we all love! In fact we have written a blog detailing Seven Spectacular Facts about sloths!
The sloths featured in this blog, are able to receive an optimum level of care thanks to the extra resources volunteers provide. We are currently looking for volunteers to support the great work of the team in Costa Rica. You can find out how to join the team here.
Back
SHARE THIS ARTICLE...
Share this article with your friends and followers by using the social media buttons below: