International Sloth Day – Rescue surprise in Costa Rica
Project & Pod News / 20 October 2017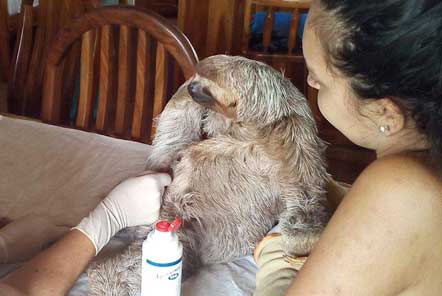 Happy International Sloth Day!
Our Rescue team in Costa Rica had a surprise double visit this week - a pregnant three-toed sloth!
She was brought into the clinic by a member of the community who saw her fall from a high tree and seemed to be pain and wasn't moving.
She received attention from the clinic team who after a check-up suspected that she may be pregnant, this was confirmed by a Doppler exam and stethoscope auscultation. The team were concerned for the health of the mother and baby as she seemed weak and dazed, but were glad to see that she did not have any broken bones or other impacts from the fall. They kept a close eye on her in a very peaceful environment where she could recover from this stressful situation.
Thankfully in the morning she was gaining strength and able to hold herself in a normal posture and cling onto the branches and became more active.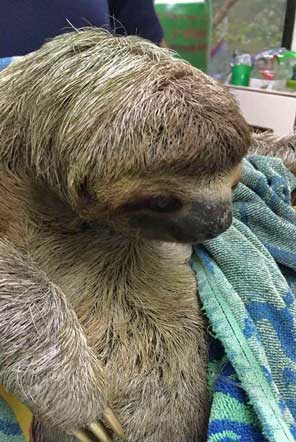 After a thorough examination on the mum and baby by reading vital signals and taking her measurements, they decided to release her as soon as possible. They took her back to the area where she was found, with suitable trees, to give birth to her baby in the wild with no human interference.
We are delighted to say that the release was successful and she is safe and doing well!
The Wildlife Rescue Centre in Costa Rica provides a safe haven for over 50 animals and rescues a number of new animals each week. It was established in 1999 and has been working to conserve the rainforest and its inhabitants ever since. The project's mission is to protect Costa Rica's diverse wildlife by rescuing and rehabilitating the animals and where possible returning them to the wild. They also conduct scientific research and promote conservation by educating local and international visitors.
Our Pod volunteers' support the ongoing work by providing extra resources to assist the local staff in caring for the animals in the sanctuary. This ensures that all of the animals receive optimum levels of care and can also be provided with enrichments.
If you would like to support the great work of the team in Costa Rica you can find out how you can join the team here: https://www.podvolunteer.org/projects/wildlife-rescue-costa-rica
Back
SHARE THIS ARTICLE...
Share this article with your friends and followers by using the social media buttons below: