Iguana, dolphins & bird boxes in Belize
Volunteer Experiences / 04 May 2020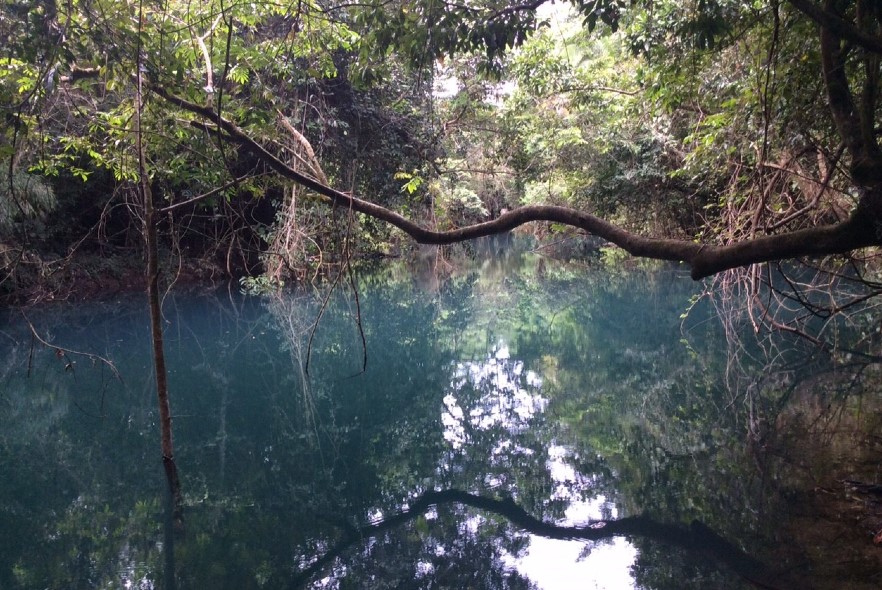 Volunteers joining our Caribbean Conservation project in Belize have the amazing opportunity to learn about conservation efforts to manage and protect local ecosystems whilst working alongside passionate local experts in the field. Volunteer Ross joined the team in Belize earlier this year and had an amazing time! Ross has shared a week of his experiences with the Conservation team:
Saturday / Sunday
"Set off on Saturday and after a night in Miami I flew to Belize on Sunday morning (goof 1. I lost my boarding card and had to go back to get another one). I then had an afternoon flight with two stop offs down to Punta Gorda in the far south.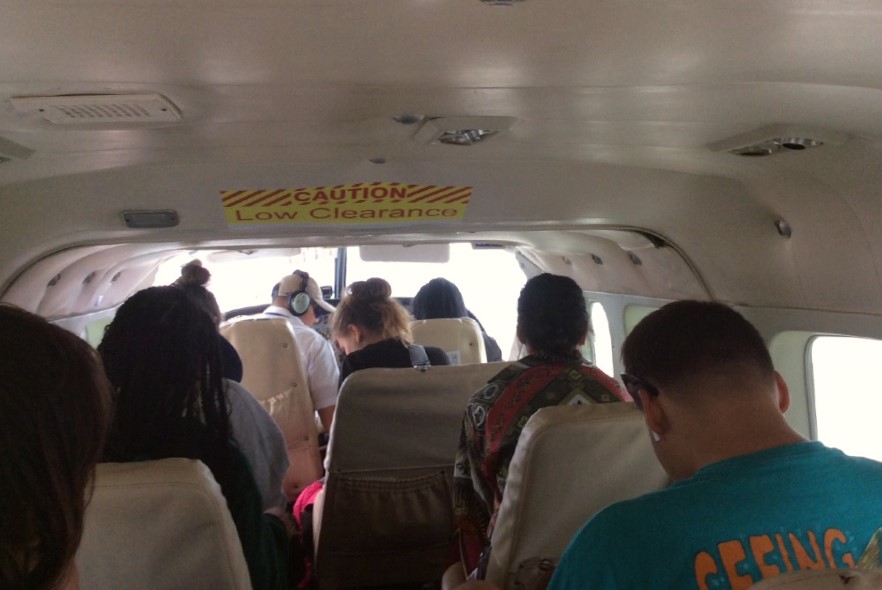 There were 12 of us in the little plane and 9 were dropped off at the first two stops. I was met by a ranger, Andrew who I will be working with during my stay. I found out then that I am the only volunteer here. He took me to my accommodation which is very basic indeed, a basement bedroom with twin beds made up. Goof 2; I chucked my suitcase on the first bed and slept on the second one with a thin blanket on top of me. I was cold all night. Next morning I found that the other bed was the one made up for me, with a top sheet! Much warmer with the blanket as well. Goof 3; I unpacked then and found that I had brought two wash bags
Monday
Walked to the charity's office and had a presentation about the charity's work. Then Andrew took me for a walking tour of the small town. Andrew and I then kayaked up and down the river and out to sea. We spotted 5 iguanas sunbathing and hiding at the top of trees. We saw loads of different birds, too many to mention.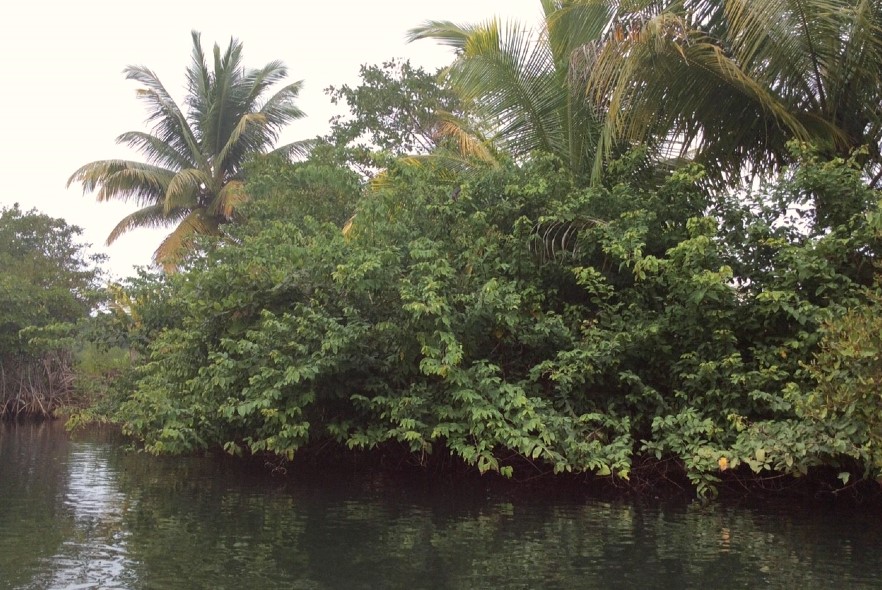 Tuesday
Off for an hour's drive with Andrew and his boss Marcus, to a conservation site to put up nesting boxes for the endangered yellow parrot which are stolen as they can repeat what you say and are used as pets. Goof 4; forgot to put deet on when I got up, so by the time I did I had about 20 bites, which still itch. I won't be doing that again! We had to carry the boxes and ladders 1 1/2 miles through thick wet grass that our 4 by 4 would have got stuck in, to get to the right site.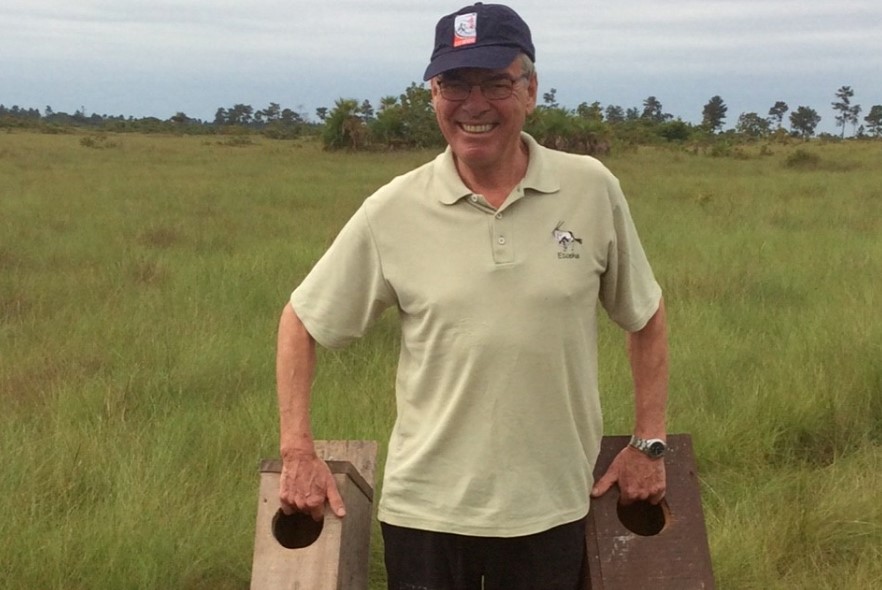 We set up 7 boxes which was knackering. On the 6th after listening to them choose the right tree all day, I piped up and chose a tree, I was amazed when they agreed so it is now officially Ross's tree, suitably engraved. And up went my bird box. I will be given the latitude and longitude of my box so that I can track its useage. I slept well that night.
Wednesday
Up early and back up the road to the same nature reserve. We spotted a snake, a Fer-de -Lance.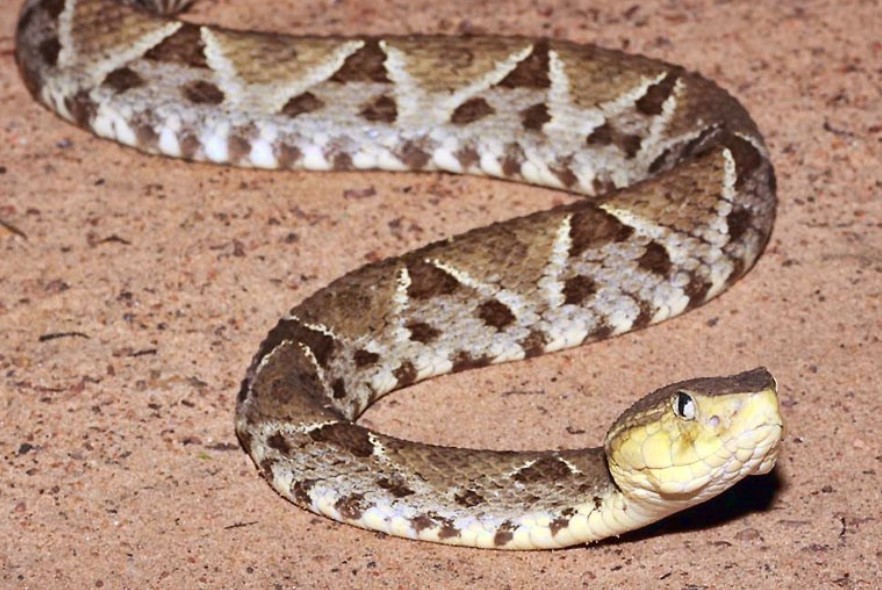 There were 5 of us today, Rangers Andrew and Marcus and a boss and worker from a tree charity. Our job was to identify 3 sites that were ready to burn the undergrowth without damaging the trees or shrubs. It took all morning to identify the right sites which will be written up and sent to the fire department for approval. We finished the morning by burning a previously authorised site.
The site backed up to tracks and an amazing blue river, full of crocodiles, which we didn't see. These acted as a fire barrier.
After lunch we packed up and the two rangers, a cook and me went off across the sea in an open topped speed boat in the rain. I got soaked and was glad when we got to the rangers' station where we would stay for 2 nights.
I had a couple of rums to warm up and had a yummy fish dinner cooked by our chef and went to my wooden hut to sleep at 8pm worn out. Goof 5; I won't be using my iPad other than to take photos as I forgot to bring the plug and lead for the iPad!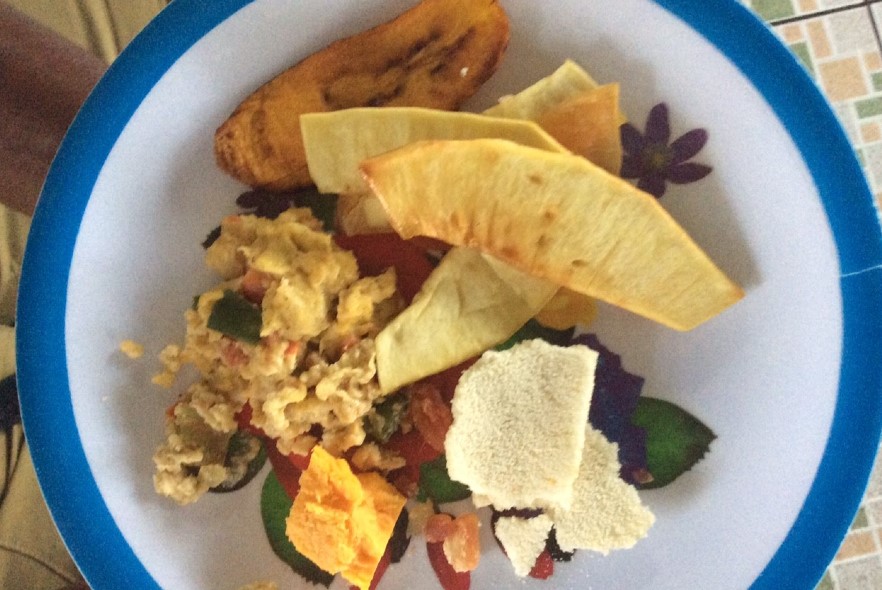 Thursday
Woke up at 6am and took a shower. They are concerned about water shortage at this remote site so they have put a sign on the door that tells people to shower in 5 minutes or less. The water is freezing cold, and I managed 20 seconds, you deserve a medal if you last more than 5 minutes.
Before breakfast the netted dining area had to be cleaned up as a fox had made a hole in the netting and knocked a dozen eggs off of the table onto the floor and ate most of them. Luckily the chef had another dozen eggs, so breakfast went ahead which was really tasty.
We then walked two miles each way to put up two more bird boxes. The yellow headed parrots seemed happy about this as we saw about 4 pairs in the distance.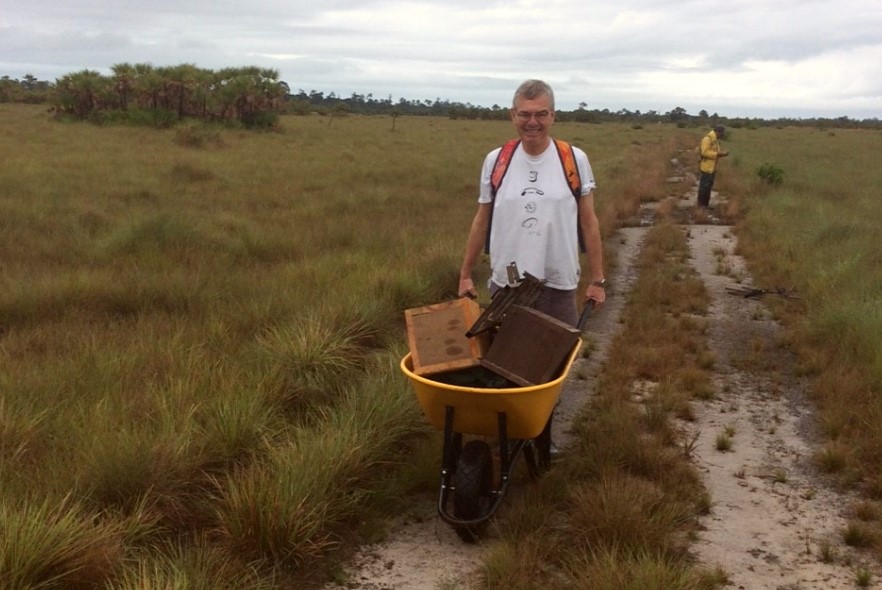 It was much easier today as we used a wheelbarrow to take us most of the way before we had to carry them the last stage through the swamp. It rained a bit but you get used to it. I laughed when Marcus goofed on the way back and fell over pushing the empty wheel barrow. Saw tracks for pumas, jaguars and white deer, but no large animals. Saw a tiny Mexican moss turtle, and a tiny Iguana.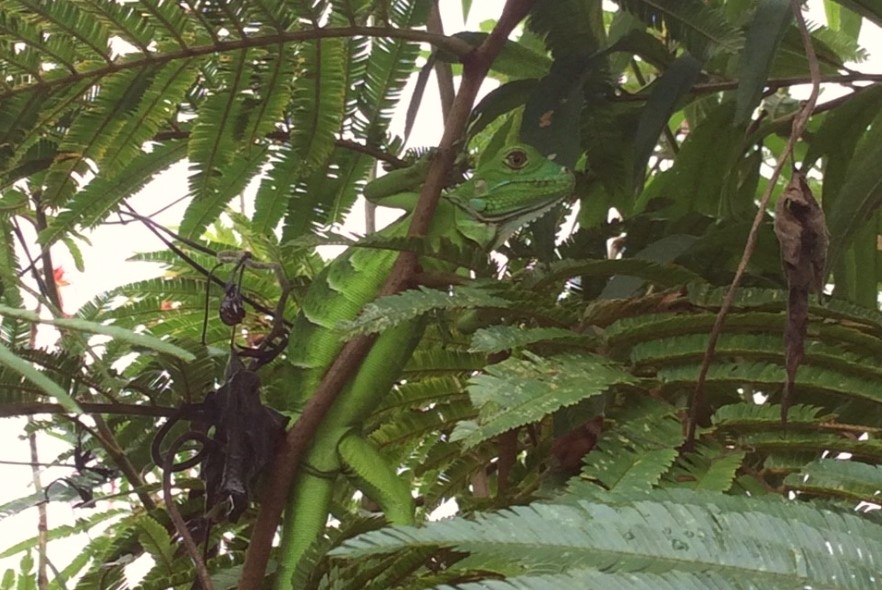 Had a delicious lunch and then back out to put up the final three boxes. Two we took up by hand only a mile each way, and the last by boat upriver, saw a huge stingray. It was then time for a second cold shower and a rum followed later by dinner and an early night. Our chef is superb.
Friday
Up at 6am cold shower and down for breakfast. Today was a totally different experience, we were to collect grass seed, which I have never heard of. The particular grass is locally called wire grass, as it is thin and straight.
This we took to the lab on the way back so that it can be analysed before being used. It was then sunny, so we had lunch and came back by speedboat. I spotted what I thought was a dolphin, so we headed over to where I said and then suddenly 4 bottleneck dolphins dived in and out of the water feeding, a great sight. Can you see the starfish in the next picture?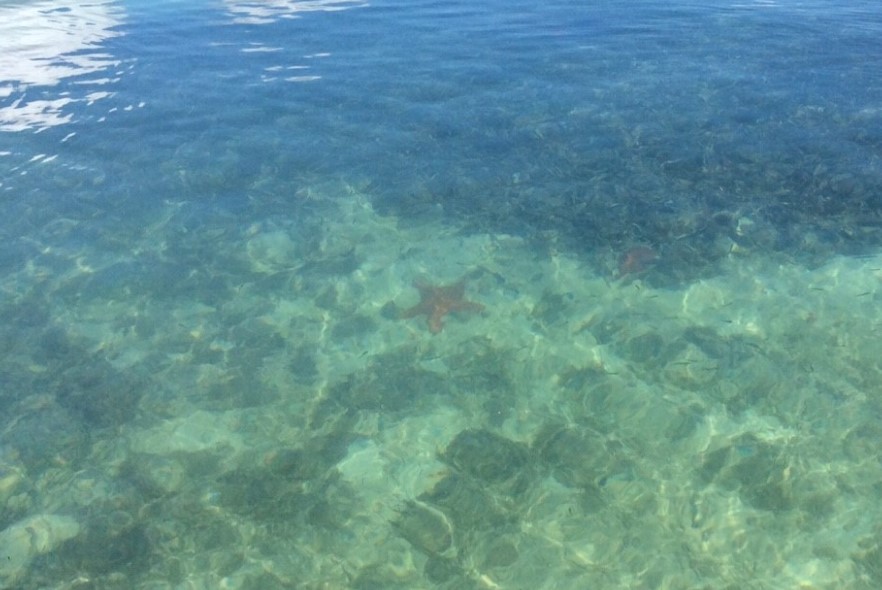 It was then off to my favourite bar for a few beers then back to dinner and bed.
Saturday
I had day off so up early to make the most of it. Went to the market and bought a jar of yellow ginger and two hot spices. Then it was off to the port to catch the 9.30am crossing to Guatemala, and then back on the 2pm boat. The boat didn't leave until 10am as we waited for late passengers, which annoyed me as I had limited time.
It was sunny and calm and the one-hour crossing was good. I walked round the corner to the restaurant that I had researched overlooking the sea.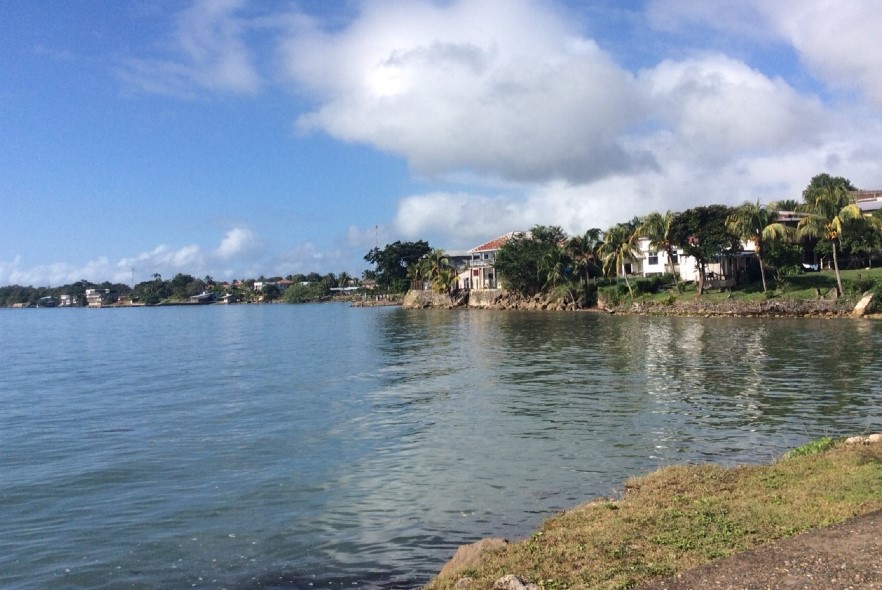 I sat outside for ten minutes and then found out it didn't open at lunch times, goof 6. I could have found this out from trip advisor. I had lunch at a little cafe round the corner, so instead of expensive fish etc, and wine, I had a cheap burger and beer. Off to immigration again paid my £5 exit charge and had my passport stamped again and headed off to get the boat back."
Thank you so much to Ross for sharing some of his experiences with us! Find out more about the project and how you can support the team's conservation work here: https://www.podvolunteer.org/projects/conservation-belize
Back
SHARE THIS ARTICLE...
Share this article with your friends and followers by using the social media buttons below: