Guest Blog: George in Thailand
Volunteer Experiences / 27 April 2015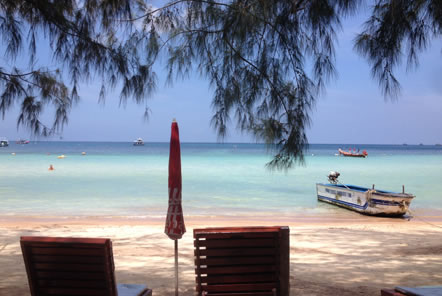 George volunteered for three weeks at the Marine Conservation project in Koh Tao, Thailand. He has shared his experiences from the project so far.
"So today I started a new chapter of my journey and it felt like a new and improved me. Slightly less tired, slightly less ill and slightly more acclimatised. This all adds up to me feeling a lot more positive about the next stage in my adventure. A tranquil bay of green and blue and wait her side of that bay rolling hills of dense green forest. Paradise. This place definitely feels like the true start to my journey and what a great place to begin."
Invertebrate Identification
"Today I had my first environment monitoring survey on the bay in front of the dive shop specifically looking for invertebrates along a 100m line a surprisingly hard task to do when you are looking out for small snails and hermit crabs hidden within the coral but a fun challenge to attempt."
"These are my beautiful reference cards drawn by one of the divers at the dive shop and a saviour for identifying all the fish and coral for all the various surveys. It just opens your eyes to the hugely diverse range of life just below the surface of the sea."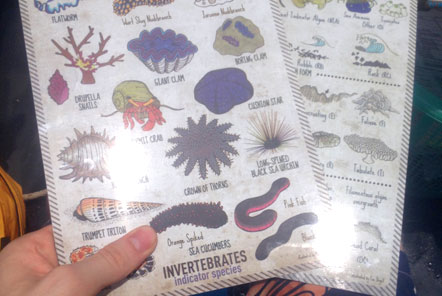 Artificial reef construction
"The creation of artificial reef and the propagation of existing corals in feedstocks is vital work to the survival and expansion of coral reef, a hugely diverse and complex ecosystem and something that must be preserved. I feel amazing just to be part of such an amazing project and helping fish diversity survive."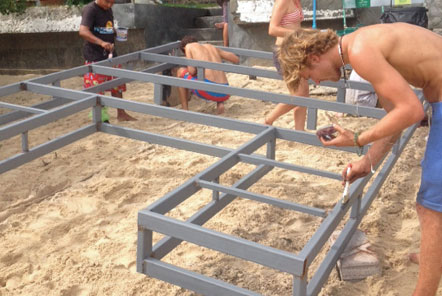 Giant Clam survey
"I arrived at the dive shop and was taken to a teaching area where I was lectured on giant clams in detail, not what I was quite expecting. Then we were told how to do a clam survey measuring them. This a boring clam, which is adapted to live almost entirely surrounded by coral, these amazing colours were incredible to see in the reef and even more amazing were the giant clams which were nearly 40cm wide. The patterns of colour were just stunning to see."
Turtle Monitoring
"Finally returning to the dive centre it was feeding time for the turtles that are kept here till they can be released into the wild and I think you will agree they are unbelievably cute!"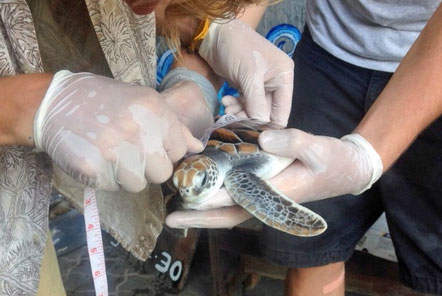 You can read more volunteer experiences on our feedback and reviews page.
If you are interesting in joining the Marine Conservation team in Koh Tao, you can read more about the volunteer role here: www.podvolunteer.org/projects/marine-conservation-thailand
A big thank you to George for sharing his experiences with us!
Back