Diary from our Under 18 Trip to India
Volunteer Experiences / 30 October 2018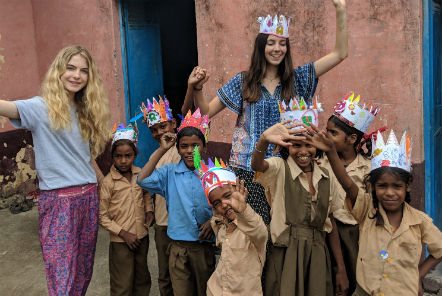 We hear from Gemma from the Pod Volunteer team who headed out to India with a group under 18's who joined our Under 18 Teaching and Cultural trip to India.
"This summer I led our trip to India and it was a fantastic opportunity for a team of 16 and 17 year olds to travel out to India to teach children in schools and run creative classes in the community. It was an incredible experience and our volunteers gained new teaching skills, learnt about Indian culture and explored this fascinating country. Here are some snippets of our diary from the trip with include some photo highlights!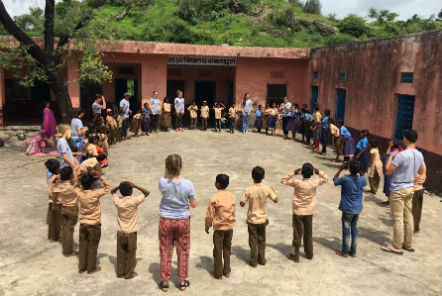 Tuesday
We are now a couple of days into the trip and everyone is settling in really well and surprised how quickly time is going already!
Yesterday morning after our cultural induction we visited the local school and met the pupils we will be teaching, we did some group songs before heading home for our first Hindi lesson. During this lesson Ravi taught us some greetings and useful phrases for our teaching sessions.
After lunch we headed to the rag picking community who are a very poor community who primarily earn an income by collecting and selling rubbish. We played hot potato, musical sit down and skipping. The Under 18 team loved meeting the children and the highlight was dancing to the music and learning some new dance moves.
We headed back to the house and after a traditional drink of local sweet chai tea we spilt into our class groups to start lesson planning for the week.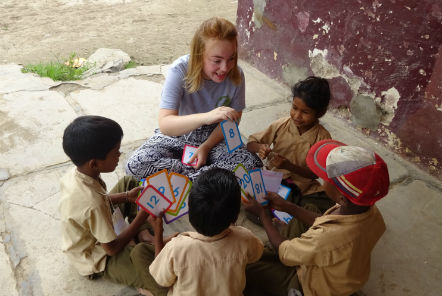 This morning we completed our first lesson at the school which went really well. Everyone enjoyed getting to know their class and the children loved learning and playing some games outside. At the rag picking community today we made crowns with the children and they enjoyed being creative and decorating their own pieces of work – it was great to see all the children so proud of their creations!
Friday
On Wednesday we were invited as guests to watch two schools shows for Independence Day. We were amazed by the dancing routines which the children had carefully learned for the show and their outfits were so colourful. In the afternoon we had our third Hindi lesson where we learnt how to create sentences and then after chai tea we sat on the roof terrace and discussed religion, class and gender in India.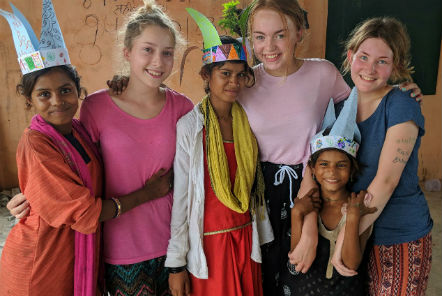 On Thursday we taught our classes in the morning, the lesson plans all went really well and it was so rewarding to see in each class that the children had learnt new letters, numbers or words by the end of the day. After dinner we had our first Bollywood dance lesson with Neha – after a lots of laughs we are starting to remember the moves.
We are getting the overnight train this evening to Agra where we will visit the iconic Taj Mahal and Agra Fort. We will be back in Udaipur on Sunday morning.
Week 2
We had a very busy weekend with lots of new photos and stories to share of our travels!
On Friday night we caught the train and ate a delicious Indian packed dinner which was made by Neha who is the mum in the family where we are staying. The team were a little worried before we got the train that they wouldn't be able to sleep on the sleeper train but we all got a good night's sleep – some of the group even slept for an impressive 10 hours! The Taj Mahal was absolutely picture perfect and the group were surprised that it looked even more impressive than on TV. We then headed to Agra Fort before lunch.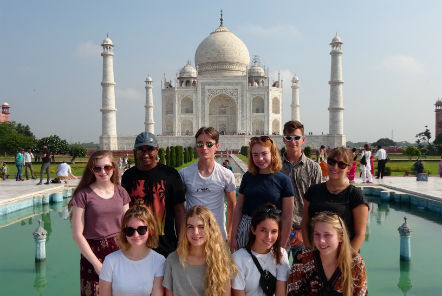 On Sunday we arrived back in Udaipur and visited the City Palace, did some souvenir shopping then headed back for lunch. In the afternoon we walked up to the temple on top of the hill and were lucky that there was clear views over the lakes, city and back drop of the hills. We then went on a boat ride around the lake and saw the famous luxury palace hotel featured in the James Bond film Octopussy.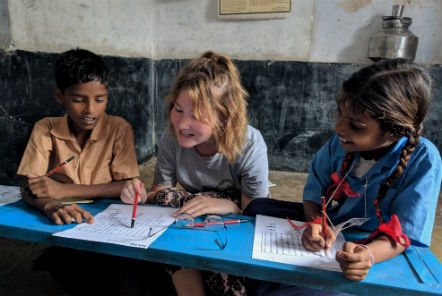 We were happy to be back in school this week and the lessons all went to plan – a highlight for the kids was playing sleeping lions during the break! After lunch and our first cooking lesson we headed to the rag picking community where the the kids enjoyed making butterfly collages – carefully sticking coloured paper to our butterflies as the rain beat down on the tin roof.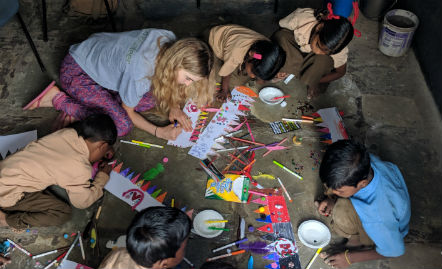 Today we are heading into the countryside to visit a Fort and Jain temple and then will have henna classes with Neha in the evening. Over dinner the group mentioned that it feels like we have been here for weeks as the family and children are now so familiar."
If you would like to join our next Under 18 Teaching and Cultural Trip to India then you can learn more about the trip here: https://www.podvolunteer.org/projects/summer-camp-india
Back
SHARE THIS ARTICLE...
Share this article with your friends and followers by using the social media buttons below: