Desert Elephants and Conservation Builds in Namibia
Volunteer Experiences / 18 April 2018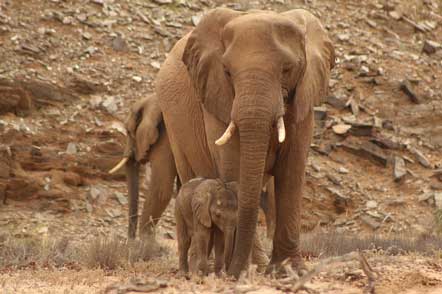 Pam recently spent 4 weeks volunteering at our Desert Elephant Conservation project in Namibia, where the team strive to create a positive relationship between the subsistence farmers and desert elephants in the harsh Namib Desert.
Here she shares some of her experiences helping to build walls to protect water sources and tracking and researching the elephant herds in the beautiful Southern African desert…
"When you see the smiles of the farmers as you arrive, ready to build a wall to protect their water tanks, is the best rewarding feeling you can get. For me, it definitely was a personal challenge, from lacking camping skills, to an emotional sense where you know you are not in your comfort zone anymore. At the beginning I guess I felt vulnerable, but I´m also very strong. Like in everything you do, you watch, you learn, you practice and it becomes easy. All this shared with an amazing group of people from all over the world, an amazing staff and with the presence of these gentle giants, the elephants are magical creatures, very powerful and graceful at the same time.
It was a life changing experience and I feel extremely satisfied with myself. It really is something that I want to do every year.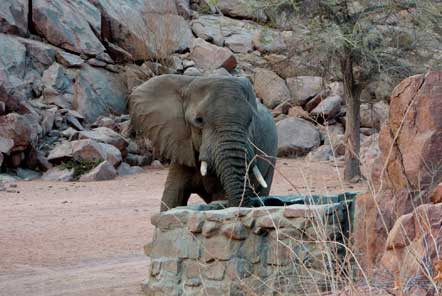 I also wanted to share something I wrote (words of wisdom) about what this whole experience gave me, 13 things that Africa left in my heart:
The value of passing knowledge on how to survive (human and animal) is admirable.
I learned that our bodies are capable of adapting to any circumstance that´s far from our comfort zones.
We really really do have to save water. It´s the most precious resource that we have.
Sometimes we take everything for granted and we forget how lucky we are.
In a world of consumerism, I realized that we don´t really need anything materialistic. Life is just that simple and wonderful.
Strength's best companion is patience.
The best days lived are the ones with the people that bring the best and the worst in you.
A sunset pink sky is one of life greatest gifts.
Equality is measured in open minds and pure hearts.
Let´s learn from the elephant matriarchs, they have the most important role: of life guides.
Wear sunscreen!
Life without electricity and without internet is possible. Well, maybe for 5 out of 7 days of the week
And, a smile is the universal language.
What advice would you give others who are considering this placement?
Just do it!"
If you would like to find out more about the volunteer placement and how you can help support this amazing project you can go to our project page here: https://www.podvolunteer.org/projects/elephant-conservation-namibia
Back
SHARE THIS ARTICLE...
Share this article with your friends and followers by using the social media buttons below: