Corporate volunteering: BE Offices' CSR Programme
Volunteer Experiences / 15 August 2016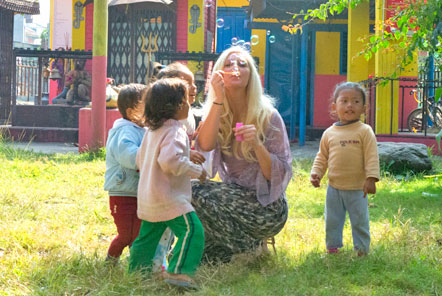 As part of their corporate social responsibility programme, British based company BE Offices offer an amazing life changing trip to two employees each year. In previous years, they have sent employees to Pod Volunteer placements in Thailand, Cambodia and Nepal.
Below you can read about each trip, the experience they had and what their employees have contributed to at our placements around the world.
Caring for animals at a sanctuary in Thailand
In 2016, Diego and James applied for the two week opportunity to work with animals in Asia. The Elephant Care & Wildlife Rescue project that we work with in Thailand operates as a sanctuary for abused, neglected or injured animals. They currently provide a home for around 200 primates, 25 bears and a variety of other small mammals, birds and reptiles as well as 18 Asian elephants.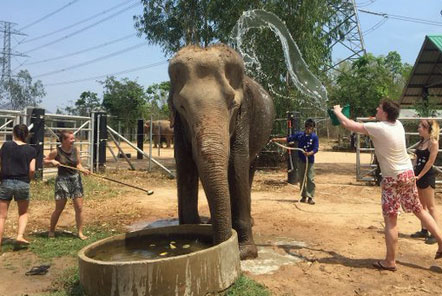 Whilst the sanctuary employs full time local staff they are always in need of assistance with their tasks. Local staff are often over-stretched with daily care tasks and so the extra man-power from volunteers, like James and Diego, allow them to focus on long term plans and extend their care to more animals.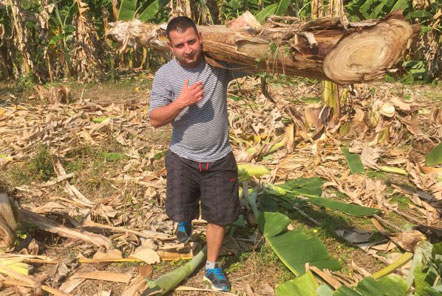 "It was an amazing experience and great to help with the rescue creatures and it was rewarding knowing that these creatures are in good hands. Be prepared for hard work!"
– Diego
Working at a women's refuge and children in Nepal
In 2014, Yasmine and Jade had the opportunity to volunteer in the heart of the Himalayas in Pokhara, Nepal for two weeks on our Child Care project. They focused their time at three placements; a children's day care centre caring for children aged 2-5, a street children's centre offering a home for children with nowhere else to go, and a women's refuge providing shelter for women and girls who have experienced abuse.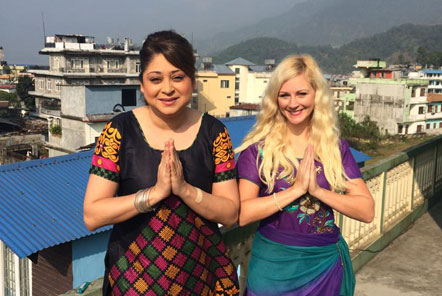 The child care centre has limited staff and resources so volunteers are able to help support the local staff and provide focused educational assistance to the children. Yasmine and Jade were able to act as positive role models for the children, inspiring a passion to learn and developing creative thinking. Interaction with volunteers naturally improves the children's English but will also improve the children's confidence and small group work helps to increase their self-esteem.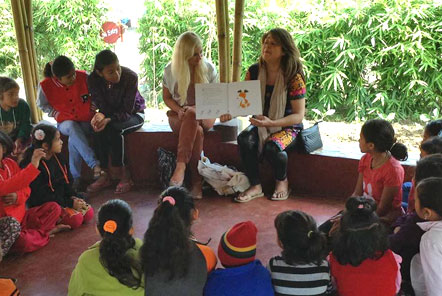 "I cannot recommend Pod Volunteer highly enough as I had the most amazing experiences and will never forget my time in Nepal. If you are thinking of volunteering for the first time but are unsure, don't be, you will be so well looked after with this organisation and take home memories to last forever."
– Jade
Volunteering with children in rural Cambodia
In 2013, Charlotte and Will were the successful applicants for the BE Offices volunteering trip. They had the opportunity to live in Cambodia for two weeks volunteering at a Children's Home.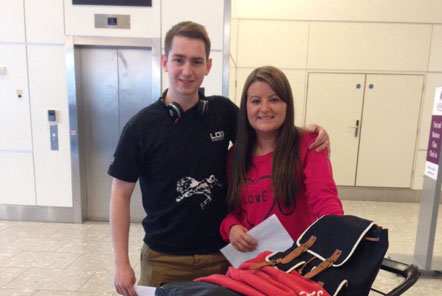 Volunteering at the Children's Home and in local primary schools, Charlotte and Will led English lessons for children aged 5-10. English is not part of the Primary School curriculum in Cambodia, but is a hugely valued skill for future employment prospects and as such, volunteer-led English sessions complement the children's state education and give them a head start.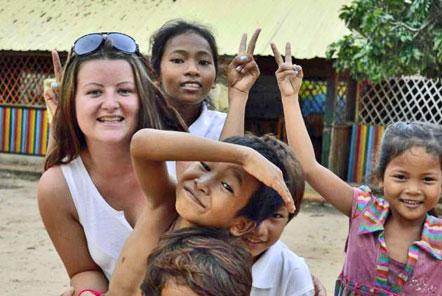 "I had such an amazing time during my stay in Cambodia - everyone at Pod Volunteer has been so helpful and supportive. It was such an experience, just to see a different culture and how other people in less fortunate countries live/work. I feel privileged to be have been given this opportunity and will never forget it. It's such a great cause - the amount of work that you do for these communities is amazing and I was very glad to be a part of it!"
– Charlotte
Why Pod Volunteer?
We are volunteering specialists, working in partnership with hand-picked projects around the world that we visit personally and continuously assess. Our expert team have all volunteered themselves, travelled extensively and are there to support you, and your employees, throughout the process.
We pride ourselves on our responsible approach to volunteering, we are driven by the needs of the projects we support and we only offer sustainable volunteer placements that have a positive impact on the local community in which they work. As a non-profit organisation we are structured to minimise costs and maximise benefits.
We have also been selected for a number of awards and are a full accredited volunteer provider, please see our Awards & Accreditations page for more details.
Next steps
If you are interested in joining any of these projects, or you would be interesting in arranging a trip for employees at your company, please feel free to get in touch with us. Our dedicated Placement Managers can help you find the right project and answer any questions you may have.
Back