My time at the Caribbean Wildlife project in Belize
Volunteer Experiences / 22 June 2013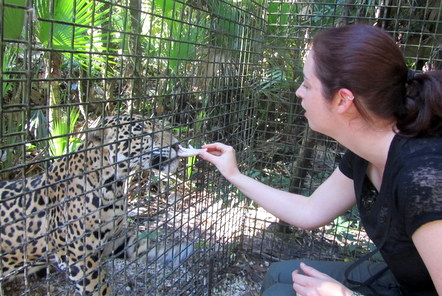 Erin from the Pod Volunteer office was lucky enough to visit Belize in November to visit the amazing projects that Pod Volunteer work with there. In the last instalment of her Belize blog she covers her time at the Caribbean Wildlife project.
Next stop – our Caribbean Wildlife project! John (the centre's driver) met me with a high 5 and a huge smile and we headed to the project. I took a tour of the centre and I was amazed by the way they'd managed to incorporate the enclosures into the natural landscape, trees and plants. There are a huge variety of animals at the centre including jaguars, tapirs, monkeys, toucans, coatamundis, macaws, eagles, owls, deer, pumas and ocelots to name but a few!
After meeting my fellow volunteers and settling in it was time to help the keepers. This involved lots of food preparation for our designated animals. We then went round and fed the animals and made sure that they all had fresh water and then cleaned their enclosures. We had a couple of 'special projects' too which were draining and cleaning the otter's pool before refilling and getting to watch her swimming in her clean pool. Our other project was helping to prepare one of the new jaguar enclosures for a black jaguar who had been rescued by the centre.
We were then taken to see the rehabilitation jaguars by Tim (the head keeper) who told us where each of the jaguars came from and why they had been rescued. The project plays a really crucial role for so-called 'problem jaguars'. This was an amazing opportunity to see these beautiful animals close up and help to feed them. I was also lucky enough to have a 'jaguar encounter' whilst at the project which involves being inside a very small enclosure within the jaguar's main enclosure which allows you to see them close up and from a completely different perspective.
During my stay I joined a night tour of the centre with the other volunteers. This allowed a completely different experience of the centre as we were able to observe the nocturnal animals and their habits. We spent time watching the ocelots, tapirs, pumas, peccary pigs, kinkajous and heard the howler monkeys calling.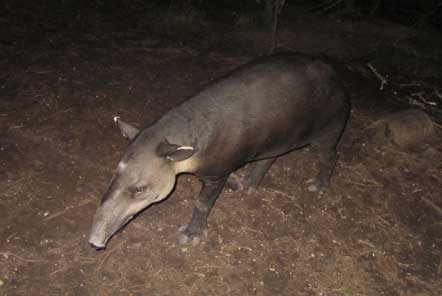 Towards the end of my time at the centre I was lucky enough to be able to spend time with Sharon (the founder of the centre). Sharon has become a bit of a local celebrity in Belize for all of the fantastic work that she has done so it was an honour to get to meet her and spend time with her and Panama (a harpy eagle) which she fed him. I was inspired by her enthusiasm and passion for helping animals and left promising that I would be back soon!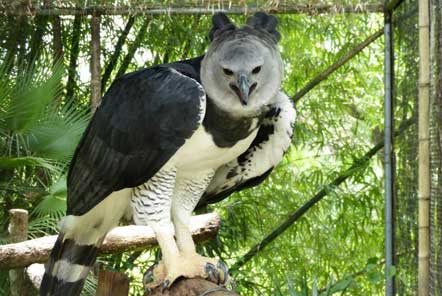 To read about my second trip to the project, please click here: https://www.podvolunteer.org/blog/my-return-to-the-caribbean-wildlife-project-in-belize
To find out more about the Caribbean Wildlife project please see the following link: https://www.podvolunteer.org/projects/wildlife-belize/
To read previous volunteers' experiences at the Caribbean Wildlife project please see the following link: https://www.podvolunteer.org/wildlife-belize-reviews/
I took a few days holiday at the end of my trip and spent these relaxing on Caye Caulker before reluctantly heading back to the cold UK. I highly recommend this island for anyone looking to completely get away from it it and relax. There are no cars on the island and the laid back feeling is perfect for unwinding.
It may have been my first trip to Belize but after spending an amazing 3 weeks there, it certainly won't be my last!
Back
SHARE THIS ARTICLE...
Share this article with your friends and followers by using the social media buttons below: