A day in the life of a Community Education volunteer
Volunteer Experiences / 31 May 2018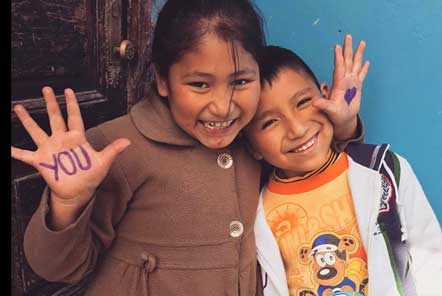 Our Peru Community Education project, which is located in the town of Huaraz at the foot of the incredible Cordillera Blanca Mountain Range, is an amazing project where volunteers assist the local team in providing educational support to children between the ages of 6 - 16 years old from low income families.
By volunteering with the team, you are providing support for a project which has deep connections to the local community and it's likely that you will be volunteering alongside local volunteers who attended the school when they were younger!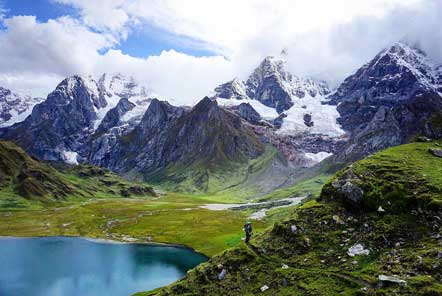 Melanie, the fantastic volunteer co-ordinator of the Community Education project, has given us some insight into what a typical day for a volunteer is like:
A Day in the Life of a Community Education Volunteer
It's eight o'clock in the morning, and your alarm sounds. You excitedly roll out of bed, ready for the fun activities that await you today. On the stove, water is already boiled and ready for you to use in your morning tea or porridge; however, if you prefer a heartier breakfast, you can always visit the street vendors who are setting up their carts for the day. Here, you can purchase a glass of quinoa porridge, a slice of peeled fruit or an egg sandwich for 1 sol (less than 50p!)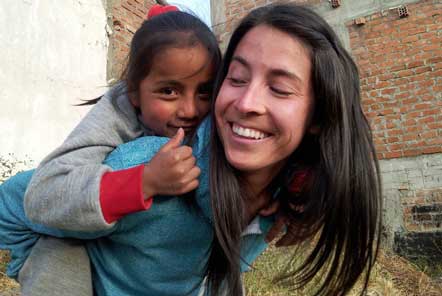 Just before 9am the volunteers leave their apartment to begin the ten-minute stroll to the centre. Arriving at the Community Education project, your first job is to help arrange the classrooms in preparation for the day's lesson (or homework help). When the older students arrive at the Community Education Centre they will often try to get you to join them in tournaments of UNO! in a valiant attempt to distract you from the academic advances that are planned for the day!
After about thirty minutes of play (during which the students arrive), students make their way to their assigned classroom where your role as a volunteer really begins! You will spend your time helping students with their homework or providing extra help for subjects such as reading or mathematics. Two hours of homework help (or additional practice) will fly by, and soon enough, it will be play time once more!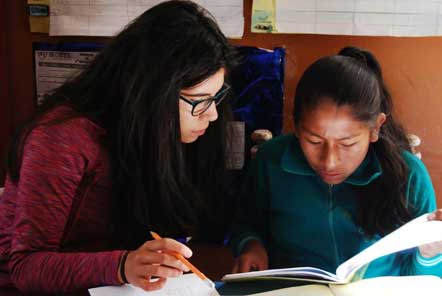 Following this period of play, students will wash their hands, pray a short prayer (remember Peru is a highly Catholic country), and then help serve up a healthy meal for the students. After their food, the students will brush their teeth, and help clean up the centre before heading home.
By the time all students have left the school, it is 12:30pm and you are definitely ready for lunch! In Peru, lunch is considered the most important meal of the day. Many restaurants (and market stands) will offer a fixed two or three course menu for 5 or 7 sol (around £2). Once you have had your lunch, you will have about an hour of free time to check social media, read, update your blog, or whatever other activities you enjoy. Some volunteers choose to go to the gym; others prefer to wander around the city in search of the perfect photograph; still others elect to go shopping for dinner supplies (or purchase souvenirs at the local artisan market).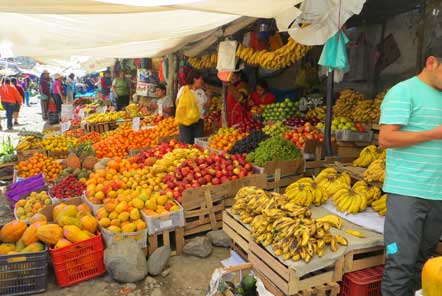 When free time finishes around 2:45pm, it is time to return to the project base! The ten minute walk always feels like a blessing, especially as several younger students are already waiting for you at the entrance to the building! As soon as you unlock the door, the children will once again engage you in card games, followed by assisting them with their homework and providing supplemental lessons, finishing up with recreo play. This group of children is more rambunctious than the morning group; however, their energy is infectious! Despite any communication issues that stem from speaking different languages, volunteers frequently report smiling so much that their face hurts!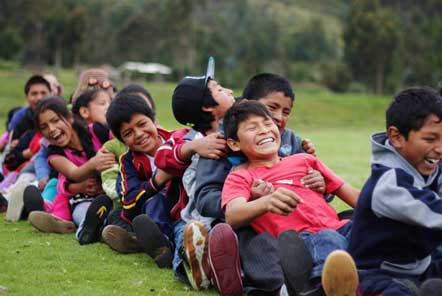 After serving a nutritious meal to a different group of students, the evening will be yours to spend as you please. Generally speaking, the volunteers leave the school around 6:15pm. We recommend that you get a good night's sleep, because tomorrow, you get to do it all over again!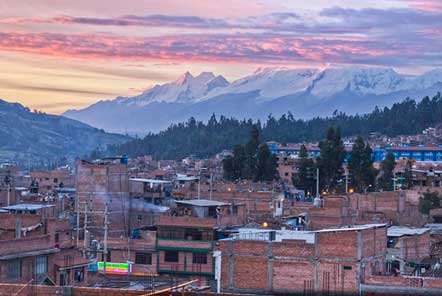 Our project page is filled with details on the volunteer role, location and the next steps to join, you can find out more about this amazing project here.
Back
SHARE THIS ARTICLE...
Share this article with your friends and followers by using the social media buttons below: